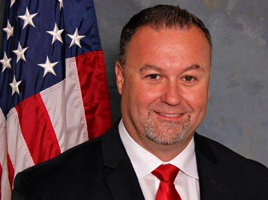 The PA AFL-CIO is backing the GOP nominee in the HD-161 special election.
No, that's a not misprint, the state's largest labor group is backing Paul Mullen's candidacy for the State House.
"Paul Mullen is not just a candidate who understands our issues, he is a candidate who lives our issues every day," Secretary-Treasurer Frank Snyder stated. "The Pennsylvania AFL-CIO will be working hard on his behalf and working to mobilize the nearly 10,000 union members who call the 161st House District home."
Mullen has an extensive labor background and is currently President of the Delaware County AFL-CIO and Business Manager of the IBEW Local 654.
"I am running to add a strong voice for working families in the State House. "We need to create good paying jobs, protect public education and restore critical funding," Mullen said. "I have spent the better part of my career advocating for working families—as Business Manager I work every day to insure that my members are safe on the job and have good middle class wages and benefits. As a labor leader I have fought for worker's rights and job security for both public and private sector union members."
Shortly after losing out on the PA AFL-CIO's endorsement, Democratic nominee Leanne Krueger-Braneky fired back.
"We understand the obligation of building and trade unions to support one of their own members," said Joe Corrigan, Krueger-Brankey's spokesman. "But we would simply remind them that the same Republican leadership that has sought to undermine the rights of union members for decades are now supporting Mr. Mullen."
"Whose side will Mr. Mullen be on when he gets to Harrisburg?" Corrigan continued. "Leanne Krueger-Braneky will always support the working men and women of Pennsylvania and actively oppose the extreme agenda of the Republican bosses that have hurt the cause of labor rights for decades."
Krueger-Braneky won the Democratic Party's nomination for the seat in 2014, before being defeated by incumbent GOP Rep. Joe Hackett, by a 56% to 44% margin. Hackett resigned from office on April 30th to return to law enforcement.
Republicans have an edge in registered voters in the 161st legislative district, with 19,703 GOP members and 14,390 Democrats. The special election election will be held on Aug. 4th.