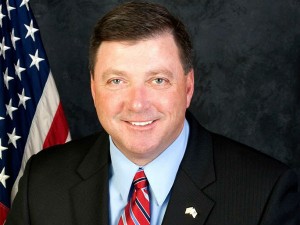 State Representative Joe Hackett is stepping down.
The third-term GOP legislator, who represents the 161st district, is resigning his seat effective April 30th.
It appears the former Ridley Township police officer wants to get back into law enforcement.
State Rep. Hackett's office released the following statement:
"Serving in the State House of Representatives has truly been a rewarding experience. I am thankful to my neighbors in the 161st District for trusting in me as their representative."
"In light of recent episodes and situations that have placed a strain on the relationship between police and citizens of this nation, I've realized my true passion is in law enforcement."
"Coming from a family of blue bloods – my grandfather, wife, father-in-law, two brothers-in-law, and three nephews – I've realized that law enforcement is not just a career – it's a calling."
"My family supports my decision, just as they did in my initial run for the House in 2008. I have to admit, it will be good to be back home."
"I believe one of the highest priorities of government must be to protect citizens and keep our streets and neighborhoods safe. I look forward to continuing my public service to the residents of Delaware County as a member of law enforcement."
The 161st could be a competitive seat for Democrats. Located in SEPA, it was one of our State House races to watch last year until the nationwide GOP tidal wave made most Republican incumbents generally safe.
A special election will have to take place as the May 19th primary is too close. Generally, Republicans tend to do better in low-turnout contests like the one that saw Martina White win the previously Democratic 170th district last month.
Either way, expect a lively open contest.