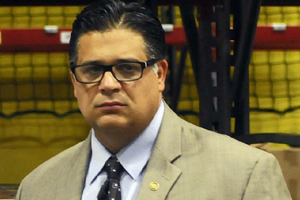 State Rep. Marc Gergely has been charged on six counts of corruption.
According to Bill Schackner and Andrew Goldstein of the Post-Gazette, an arrest warrant against Gergely was filed last Thursday.
The State Representative allegedly aided Ronald "Porky" Melocchi's installation of video poker machines.
"The charges include three felonies," Schackner and Goldstein write. "Two counts of corrupt organization and one count of dealing in the proceeds of illegal activity; as well as one misdemeanor count each of criminal attempt related to gambling devices, conspiracy related to gambling devices and a violation of election law."
Gergely was caught discussing a complaint his legislative office received about the machines with Melocchi in 2012 by an FBI wiretap.
Despite the charges Gergely is not required to resign, although he must relinquish his spot as ranking member on the Labor & Industry Committee.
The 35th district is located in Allegheny County.