State Rep. Erin Molchany has taken a different approach in addressing the negative advertisements that have been aired against her. Instead of creating more issues to mudsling over, Molchany faces the attack ad against her directly — literally, it's playing in the background — and alludes to its inaccuracies.
In her latest response ad, entitled "Mom," a mother and her daughter sit at a kitchen table when the negative commercial about Molchany, courtesy of incumbent Rep. Harry Readshaw, comes on the television.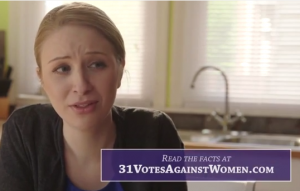 "Did you see what Harry Readshaw is saying about Erin Molchany?" says the mother to her daughter.
"Mom, you don't believe that, do you?" the daughter responds with a chuckle.
"You know that Readshaw voted to raise our taxes 8 times, right? Even the 'gas tax,'" she says, alluding to Readshaw's ad that said Molchany supported "Corbett's crushing new gas taxes."
"Did you also know that he voted 31 times against women's healthcare? He even supported Tom Corbett's forced ultrasound bill," the daughter says.
"But Erin Molchany is fighting for equal pay for equal work; that's important to my family," the daughter continues.
After hearing all of that, the mother declares: "Maybe it is time for someone new."
While the mother and daughter are conversing, the URL 31votesagainstwomen.com is shown in the corner with "Read the Facts" written above it.
On that webpage, which is hosted by the mother website Planned Parenthood, Readshaw's women's health voting record is listed, including his support for banning insurance coverage for abortion care.
Readshaw's campaign manager Bob Witmer issued the following response to the ad, attacking it in pieces.
On the tax increases:

"This is obviously a ploy to distract the voters in the district into forgetting about Erin Molchany's own record on taxes: in her first year in office, she voted for a package of over 140 new tax hikes and fees, including Corbett's massive gas tax. The bills the Molchany campaign cite are a mixture of legislation, from small tax increases to giving counties more freedom in taxation. The most comical bit of the whole ad is their incredulous attempt to compare Harry's vote in 1997 to raise the gas tax by less than 4 cents a gallon to Erin's vote to raise it nearly 30 cents. If they want this debate to be about our records on gas tax increases, we welcome that conversation."

On women:

"As we have stated before, Harry's phenomenal record on women's rights can speak for itself. He is a cosponsor of the pay equity bill and has a staff that is literally 100% female. He pushed increases in programs that primarily benefit women. Along with that, he is the Democratic co-chair of the Lupus Caucus– a disease that primarily affects women– 90% of those affected, in fact, are women. To say Harry is anti-women is fully inaccurate at best.
In what has become a very competitive race, Molchany faces off against Readshaw next Tuesday in the Democratic primary after redistricting bumped Molchany into Readshaw's district and moved her to Lehigh County.