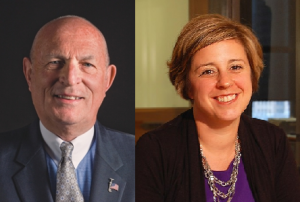 Just one day after State Representative Harry Readshaw (D-Allegheny) released an ad attacking his HD-36 challenger, Erin Molchany (D-Allegheny), Planned Parenthood Pennsylvania PAC responded with an attack ad of their own in opposition to Readshaw.
The ad, entitled "Close Your Eyes," rebukes Readshaw for voting in favor of a bill that would have required women to receive an ultrasound against their will if they sought a legal abortion. The title refers to a quote from Governor Tom Corbett, which advises women who have abortions to look away from the ultrasound image.
"When Tom Corbett proposed the strictest restrictions on women's health care in the country, he told women, 'You just have to close your eyes,'" the ad says, with audio of Corbett cutting in. And "his biggest ally in Pittsburgh? Harry Readshaw."
According to the ad, Readshaw also attempted to limit women's health care coverage and restrict health clinics opposed by physicians by voting in favor of HB 818 and HB 574, respectively.
"When you vote on May 20th, don't close your eyes," says the ad.
"Representative Harry Readshaw has spent the last twenty years in office voting time after time to restrict women's rights and health in Pennsylvania," said Sari Stevens, Executive Director for PPPA PAC. "In the last 12 years alone, Harry Readshaw has cast 31 votes against access to reproductive healthcare, even voting against an amendment that would have protected patients from the harassment and intimidation of protestors. The women of South Pittsburgh know politicians have no business inserting themselves into deeply personal medical decisions."
PPPA PAC officially endorsed state Rep. Molchany, who has been an outspoken supporter of women's rights through her time in office and is also a member of the women's health caucus.
"Only one person in this race, Rep. Erin Molchany, represents the values of HD-36, and we are thrilled to be investing in this race," said Stevens.
Robert Witmer, a spokesperson for Readshaw's campaign, responded to the ad.
"In the newest attack ad, Molchany's allies attack Harry on his record of women's rights.  In fact, Harry has worked on behalf of women throughout his career– he fought for and won an increase in PACE, a program whose vast majority of enrollees is female, and, as a cosponsor, is pushing for the pay equity bill, a bill Molchany is sponsoring herself!"
Witmer brought up Molchany's support of the "gas tax," which has become the attack of choice for the Readshaw campaign.
"The more ironic bit of the attack is that Molchany's allies call Harry 'Tom Corbett's best friend in Pittsburgh.' Only one candidate in this race has fought for and supported Corbett's landmark piece of legislation, and that was Molchany. As Harry fought Corbett's policy achievement, Molchany voted for Corbett's massive gas tax increase."