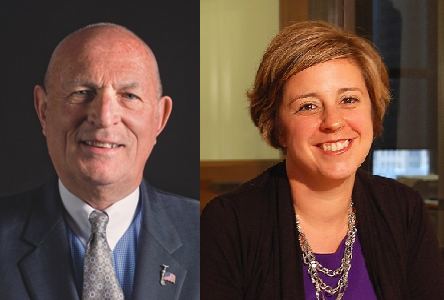 State Rep. Harry Readshaw (D-Allegheny) is now on the offensive as he attempts to retain his 36th district seat.
The incumbent Readshaw, who is challenged by fellow state Rep. Erin Molchany (D-Allegheny), released an ad that attacks Molchany, citing her support for "Corbett's crushing new gas taxes."
The ad says that the "gas tax," which is a feature of Governor Tom Corbett's transportation bill, would add as much as 30 cents to each gallon of gas in Pennsylvania, the benefits of which would be concentrated in Philadelphia.
"So as you watch prices go way up at your next fill up, say no can do Molchany, you've cost my family enough already," the ad says.
But, Molchany's campaign isn't buying the ad's claims.
"This claim again ignores the facts of the transportation law," said Molchany's campaign manager Jacob Redfern. "In reality, millions of dollars will be spent in Allegheny County, helping repair our roads, bridges, and improve our public transportation services."
They also source a Post Gazette article that stated consumers likely won't be able to tell how much of a gas cost increase actually was caused by the transportation bill.
Readshaw received similar criticism for his first ad, which stated that he "fought Governor Corbett's massive gas tax that funds Philadelphia's mass transit." The Pittsburgh Post-Gazette wrote an article describing how Readshaw was "distorting" the transit law, making it seem that only the city of Philadelphia was going to reap the benefits from the added revenue.
So although he has already received flack for using the transportation bill in his campaign, Readshaw is doubling down on his efforts in his latest ad. And as Readshaw tries to tie Molchany to Governor Corbett, her team is focused on Readshaw's conservative leanings.
"This ad is just another example of Republican-style scare tactics from Harry Readshaw," Redford said. "Even PoliticsPA said that his opposition to the transportation bill 'falls directly in line with the conservative sentiment of the Republican House'. Our neighborhoods support the democratic values Rep. Molchany stands for and won't fall for these misleading attacks."
But the Readshaw campaign stands by their claims.
"Our ad sticks to real issues– it points out that Molchany voted for what will be the highest gas tax in the country," said Bob Witmer, Readshaw's campaign spokesperson in response. "If she doesn't believe that what she voted for was a thirty cent gas tax and she truly thinks that multi-billion dollar big oil companies will not pass on the new costs to consumers out of the goodness of their hearts, she is deluding herself and the people of the 36th district. In fact, we are already feeling the effects of Molchany's vote at the gas pump, which added ten cents per gallon in January."
"Our ad also points out that Philadelphia mass transit is receiving a disproportionate amount of funding, and it is true: $10 to Allegheny County's $1. It is tragic that Harry's constituents will be paying to fund Philadelphia transit that they may never use, and Harry stands by his vote against the drastic increase in the gas tax to pay for it. Harry's constituents call on him to represent them, and he is happy to answer that call."
The hotly contested race between Molchany and Readshaw is the result of redistricting that moved Molchany's HD-22 to Lehigh County and changed the borders of HD-36 to include just a small percent of her former district.
UPDATE – Watch the ad here: