HD60: Special Election Set for May 18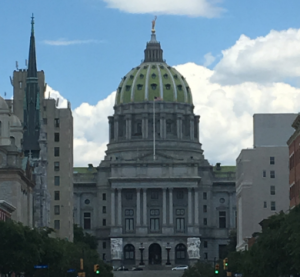 House Speaker Bryan Cutler (R-Lancaster) announced on Wednesday morning that May 18 will be the special election date to fill the open state House seat previously held by state Rep. Jeff Pyle (R-Armstrong). 
Pyle cited health issues as the reason for his retirement announcement on March 16. 
"I was fortunate enough to get a firsthand look at how Rep. Pyle approached his work early in my career because Jeff and I shared an office space here in the Capitol," Cutler said. "Even in recent years, when Rep. Pyle faced his own challenges, he never wavered in his relentless efforts to improve the lives of those he represents, and he set an example for each of us to try and follow. He has been a great member and best friend."
Pyle was first elected to the state House in 2004 to represent the district in western PA. He served as the Chair of the House Liquor Control Committee in his current term and in a previous term served as the chair of the House Gaming Oversight Committee. 
Pyle was unopposed in his most recent reelection bid to secure a ninth term in the state House to represent the 60th District, which includes parts of Armstrong, Butler, and Indiana counties.
This is the fourth special election announced to take place on the same day as the state's primary election. The special election for the state Senate's 48 District, to fill the open seat previously held by the late state Sen. Dave Arnold, the special election for House District 59, to fill the open seat previously held by the late state Rep. Mike Reese (R-Westmoreland), and the special election for the state Senate's 22nd District, which will fill the open seat previously held by state Sen. John Blake (D-Lackawanna), will also take place on May 18.
The parties will pick the candidates to run in the special election.