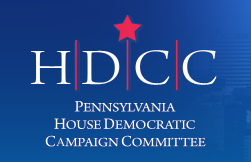 HDCC Executive Director Ethan Smith is moving on.
Smith, who joined the House Democratic Campaign Committee as Executive Director in 2011, is stepping down at the end of the month.
He will be joining GQR Research as Director of State Legislative Programs.
Smith made clear the departure was amicable and HDCC Chair State Rep. Tim Briggs wished him well.
"It's an exciting opportunity for Ethan," Briggs told PoliticsPA. "He's a great guy, worked for us for two cycles and served us well."
As for Smith's successor, Briggs indicated that the committee is aiming to make an announcement in January or February after the inauguration of Governor-Elect Tom Wolf.
In 2012, the House Democrats broke even but lost eight seats this year.