Spoiler alert: the deciding factor in one of the most competitive Pa. Senate race might not be either candidate on the ballot.
Republican John McNally faces Democrat Rob Teplitz for the seat of outgoing Sen. Jeff Piccola (R-Dauphin). But a third candidate, Alvin Q. Taylor, may make the difference.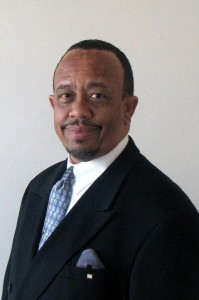 Taylor is running a write-in campaign for the office, he says, because he was robbed of the Democratic nomination by Teplitz. His yard signs have been popping up around the district, on roadsides and in front yards, particularly in and around Harrisburg's African American communities.
Taylor boasts of his work as a consultant for Rutgers University and Harrisburg's United Missionary Baptist Church.
His grassroots campaign is run by a dedicated core group of supporters and friends.
Taylor does not characterize himself as a spoiler and insists his campaign isn't about payback. In fact, he suggested that Teplitz will take votes from him. But at the candidates debate Monday and throughout the campaign, Taylor's primary talking points have been all about Teplitz.
"For 12 years, Rob Teplitz, you have been the insider. Bob Casey suspended you for lying to him. You said you were 'Steve from Linglestown,'" Taylor said Monday, referring to a 2000 incident when Teplitz used a fake name during a PCN call-in show. "How can you explain to people here that, in 2000, I lied to Bob Casey, then, I got on the radio and talked about, 'I am Steve from Linglestown'?"
The (Non) Endorsement
Taylor says he was cheated during the Democratic primary, and he has a legitimate grievance. The Dauphin County Democratic Committee voted not to endorse in the race in January. But later, a portion of the party's executive committee voted to endorse Teplitz. Between that time and the time that the executive committee endorsement was overturned by the party as a whole, a Teplitz campaign mailer called him "the endorsed Dauphin County Democrat."
Taylor lost the primary by 266 votes, and says direct mail from Teplitz boasting the endorsement is the reason. Whether or not one line in a mail piece could have accounted for the margin, we'll never know. But that's why, in June, Taylor said he is still running.
"The spirit of the Primary Race did NOT represent the 'will of the voters,'" he wrote in a June press release. "Due to Attorney Rob Teplitz's need to deceive the voters into believing he had the endorsement of the Dauphin County Democratic Committee's 130 Committeemen/ Committeewomen, the voters will was NOT heard."
But it's not exactly Teplitz's fault (even setting aside the fact that he says he had nothing to do with the executive committee shenanigans). County committees all around Pa. went through the exact same problem this year because the Pa. Supreme Court threw out the House & Senate maps that most candidates had planned to run on. The Dauphin Dem Committee vote not to endorse took place just 3 days after the Court's decision when it was still unclear what the 15th district would look like. Indeed, the Court cited the proposed 15th Senate district as an example of egregious gerrymandering.
The proposed new map would have cut Teplitz out of the district, despite his having campaigned for the office of months by that point. When that map was tossed, and the 2001 map kept in place for this election, the Dems executive committee felt it had cause to revisit the endorsement.
All that said, the Executive Committee was packed with Teplitz supporters and most accounts indicate that Taylor never had a chance at its endorsement.
There's more to it than that. For a long time, there has been friction between black Democrats in Harrisburg and the County Democratic Party, which is mostly run by suburbanites. Black candidates are seldom endorsed against party establishment favorites.
In part, that's the frustration Taylor hopes he can tap into, if not to win then at least perhap to serve as a warning to the County committee about the importance of running a fair process.
Teplitz, for his part, has been actively engaging African American voters since his primary win, including hiring some experienced advisers from the community and attended practically every NAACP meeting and church picnic he can.
On the bright side for Teplitz, in an election likely to attract 120,000 votes or more, Taylor will really have to work to make an impact. If 1,000 voters write in his name, that's still less than 1 percent of the overall total and would affect only the closest of races.
Taylor's Record
From day 1 of the 15th district race this year, Teplitz was the recruit and the preference of statewide party leaders and the campaign committee of Senate Democratic caucus. He's the Chief Counsel to Pa. Auditor General Jack Wagner and well connected.
Why not Taylor? The 15th district is one of Dems' top 3 pick up opportunities in the state Senate this cycle and Taylor's record on the campaign trail leaves a lot to be desired.
He finished a distant 4th place out of 4 in the 2007 general election and a distant 4th in the 2011 primary election when he ran for Dauphin County Commissioner those years. He finished 10,000 votes – 28 percent – behind Judy Hirsch in the 2008 primary for state Senate.
There's also Taylor's personal bearing. He doesn't exactly interview well.
Asked about the campaign at Monday's debate, Taylor alleged a media conspiracy against him – including PoliticsPA.
"PA Politics is a Teplitz machine, too. Because they follow… they give him all these sweetheart statements," he said, referring to PoliticsPA's practice of posting legislative election updates in the Morning Buzz.
"You know what you said to me back in June?" he asked me, referring to this post. "You said that Taylor is going to syphon off votes from Teplitz. That was never the case. He lied."
"All of you guys hang in the same group," he charged, naming several reporters in the room. "It don't matter to me. But that's why I don't do the interviews with you guys."
SD-15 Debate
In addition to the press, Taylor has little love for the Senate Democratic Campaign Committee. As much as the Dauphin Dems endorsement mess upset Taylor, the tens of thousands of dollars that SDCC directed to Teplitz's primary campaign had a more tangible impact.
Now, he's out for revenge.
He stayed on the attack Monday and repeated the charge numerous times during a debate between McNally and Teplitz. Rather than attack McNally, who represents the opposite party, he went after Teplitz again and again.
"When we talk about 'Steve from Linglestown,' and your saying you are an endorsed candidate of the Democrats, you're talking about deception of the voters. That's why I'm running. Because you're an insider," Taylor blasted.
Teplitz said he was the choice for anyone who wants a Democratic state Senator.
"It takes about 63,000 votes to win this election. I think getting 63,00 write-in votes is going to be a challenge," he said. "The fact is, I'm the Democratic candidate. we're running a very strong campaign. We're in a position to be the first Democrat in 80 years to represent this area, and it's important for anyone who cares about that…. not to risk that."
McNally Enjoys the Show
McNally is happy to watch the feud – why wouldn't he be? He gleefully complemented Taylor at the debate and criticized Teplitz.
"I think that we have to acknowledge that there's one seat missing at this table, and that's the seat for the Reverend Alvin Taylor," McNally said at the outset.
"I find it somewhat inconsistent that my opponent is for increasing access to the ballot but doesn't want to have Alvin Q. have a seat at the table," he repeated later, after suggesting with a straight face that Taylor's presence in the race doesn't offer either party an advantage.
Side note: Democratic voters in the 15th shouldn't be surprised if they see a mail piece with helpful instructions on how to write in a candidate, paid for by McNally supporters.
But the Republican isn't without his own primary baggage.
The GOP's version of Taylor is Josh First, one of the two men McNally defeated in the Republican primary. McNally took 48.1 percent of the vote, First came in second with 26.1 percent, and suggested that voting machine tampering may have been the cause. First similarly challenged McNally at the debate.
And Teplitz may not be the only candidate to lose votes to Taylor, or at least one vote.
"Alvin Q. Taylor, running his uphill write-in campaign, he IS a character, and as with many other disenchanted Democrats and Republicans around here, he just might get my protest vote," First wrote in an email to supporters after the debate.
McNally is a partner at Thomas, Thomas & Hafer, LLP. The 15th Senate district comprises most of Dauphin County, including Harrisburg, and some of northern York County.