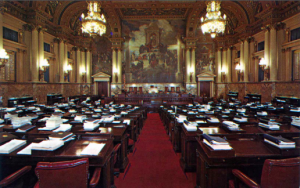 House Republicans passed their version of the state budget on a party-line vote, 108 to 92.
The spending plan, nearly identical to the one party leaders proposed on May 29th, now moves on to the state Senate.
Republicans argued that it was a caring and compassionate budget.
"We are expanding services for individuals with intellectual disabilities, seniors, physical disabilities, services to improve quality of childcare programs, and improving services for at risk children," said Rep. Matt Baker (R-Tioga).
At $28.3 billion, the budget is within a stone's throw of Governor Corbett's proposal. It provides $300 million for business incentives and an additional $10 million more than Corbett's for public education.
GOP members emphasized that the budget was restrained and responsible, and over and over noted that it increased state spending on public education to historic highs.
In the House Appropriations Committee on Monday, Minority Chairman Joe Markosek (D-Allegheny) tried to introduce an amendment to the budget allowing for taxation on Shale Drilling and Medicaid expansion. This was defeated and the bill moved on to the floor of the house.
On Tuesday Democrats again made an unsuccessful push to amend the budget, this time to reflect the expansion of Medicaid. It was defeated despite gaining some Republican support.
The third day though was no more the charm for House Democrats, who focused on education in addition to Medicaid.
"Under this proposed budget which funds education we are one of only two states in the nation that does not have a funding formula," said Rep. Mike Sturla of Lancaster County.