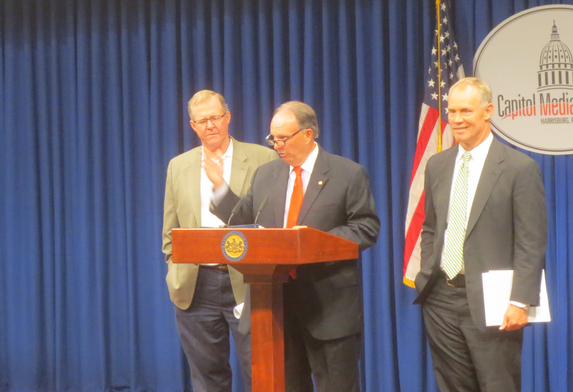 House Appropriations Chairman Bill Adolph introduced the House Republican budget Wednesday, alongside Speaker Smith and Majority Leader Mike Turzai. Its total is $28.3 billion, $110 million less than the budget Governor Tom Corbett proposed back in February.
It also does not include some of Corbett's other priorities.
The critical difference between this budget and the Governor's was, Smith said, "This budget is based on current law." It does not take into consideration an influx of education dollars from liquor privatization or any change in pension funding.
"This is by no means a final budget but we do have our priorities in focus," Adolph said.
Those priorities include $10.3 billion for education, $5.5 billion of which will go to basic education. Money would be allotted for 300 new state troopers and $20 million to assist disabled Pennsylvanians.
Leader Turzai denied the presence of legislative linkage between the budget and the other items on the legislative agenda such as liquor reform, transportation spending, and pension reform.
"There is no linkage, the most important issue is our constitutional obligation to pass a budget by June 30th," he said.
Smith was quick to make clear that even though the Republicans budget does not account for possible pension reforms they are not giving up pension reform until after June 30th.
"No . . . pension reforms are important but, if an agreement is struck for pension reforms, they can be enacted and literally could have zero impact upon this current budget, the way the Governor proposed it, it arguably would but there have been other changes."
The other change the Speaker referred to was the discovery of an unexpected $140 million in savings which came due to a decrease in total wages paid to school employee pension funds. This according to House GOP leadership alleviates pressure this coming fiscal year on pension funding.
Leader Turzai rejected that the issue of liquor reform would have much of an impact on the budget either.
"No, I do not believe it would impact this particular budget," Turzai said.
"If the budgets were compared line to line, ours would be 85% highly similar with the Governor's."
Like the Governor's budget the House GOP's does not include a provision for Medicaid expansion revenues.
"We have not dwelled on those numbers because Governor has not made a decision yet," Adolph said.
Budget deliberations begin officially on June 3rd when the legislature returns to session.