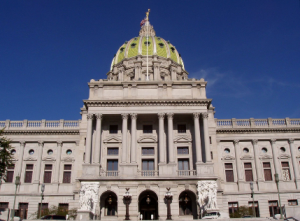 State House Republicans leaders walked away from budget negotiations yesterday as leaders from both chambers were discussing how to close the $800 million left of the gap needed to fully fund the budget.  
According to the Associated Press, House leaders left during a discussion of raising taxes to help close the gap.  
State House Speaker Mike Turzai (R-Allegheny) said that a tax increase would not be able to pass the House.  
"I can assure you there are very few, if any, tax votes in the House on either the Republican or the Democratic side," Turzai said.  
House leaders instead offered a package that raised the money to close the gap without raising taxes.  
The Patriot News reports that the House's package uses expanded gambling, including video gaming machines at bars and taverns, increased alcohol privatization, and more borrowing.  
The House's plan does not likely have a good chance of passing the Senate, who have said they do not have the votes to pass a video gaming bill.  
State Senate Majority Leader Jake Corman (R-Centre) said that the Senate sees the need for recurring revenue, but does not see video gaming or increased liquor privatization as long term solutions.  
"But we've got to deal with it. And it's our responsibility as legislators to deal with it. So if borrowing is going to be part of it, then we need to have a sound financial picture moving forward as well," he said.