http://youtu.be/6lOxwmsMcgM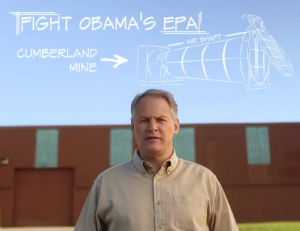 It's not hard to tell from Mark Critz's first ad of the general election that he's running in a district Barack Obama lost by 8 points in 2008. The Democratic Congressman smacks the President and his party over the issue of coal and others.
"Seven hundred coal jobs depended on building an airshaft at the Cumberland Mine. But we had to fight President Obama's EPA to get it built," Critz says.
"…I'm fighting my own party to stop over-regulation of coal and natural gas and to build the Keystone pipeline."
It's reminiscent of one of the best political ads of all time, Joe Manchin's 2010 Senate commercial in which the West Virginia Democrat fires a rifle at the "Cap and Trade bill".
He closes, "…I'm pro-life, pro-gun and I'll fight anyone who stands in the way of Pennsylvania jobs."
Critz is running against Keith Rothfus, an attorney from Allegheny County and one of Republicans' top congressional challengers in the country.
Update: Rothus Campaign Manager Jon Raso responded to the ad.
"The voters know Congressman Critz's liberal leadership is exactly why they're struggling, and all he can do to try and stay in power is deceive them.  Someone who supports President Obama in over three out of every four votes and voted with Nancy Pelosi 95% of the time during her leadership is the last thing from 'independent,'" he said.
"Just a few months ago Mr. Critz was making every attempt to out-left Jason Altmire, now he's trying to convince the voters he's a conservative."
Critz's strong television ad campaign helped carry him to an unexpected victory over fellow Dem. Rep. Jason Altmire in the April primary. But as part of that primary, Critz had to walk a careful line between winning the Democratic party base and maintaining his centrist record.
So far this campaign, Republicans have gleefully noted that Critz voted numerous times against repealing parts or all of the Obamacare health care law – he even boasted of it during a debate with Altmire.
Rothfus has been on TV for several weeks, as have numerous outside groups on both sides of the race.