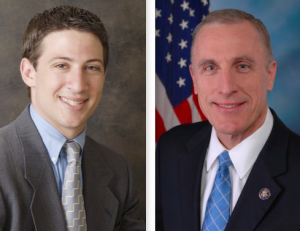 Camp Hill – Evan Feinberg took a quick trip out to the midstate to visit supporters at the Pa. Leadership Conference. In a room full of anti-establishment conservatives, the challenger to Rep. Tim Murphy had a number of friends.
Back in the 18th district in southwestern Pa., things aren't going as easily. Murphy is putting his cash on hand advantage to use (he has $1,040,000 to Feinberg's $40,000); he is already on television.
Feinberg has four weeks to make his case to Republican voters there, and overcome a deficit that a Murphy internal poll in February found was 74 to 12 percent.
He characterized his fundraising so far this quarter as strong – just as he did last quarter when he raised $50,000. He added that he expects to be on television before the race is done, but otherwise he is relying on a strong grassroots game. And some national conservatives have offered him a hand with name ID and fundraising – as Erick Erickson of RedState did today.
He predicted that the contested presidential primary will boost his chances.
"The presidential race will improve turnout, which is only good for me," he said. "Presidential voters are going out to vote based on the issues, and when they look at my issues versus my opponent, they'll see I'm the conservative in the race."
But what Feinberg really needs is a game changer, and he's hoping that a face-to-face meeting would give him an opening. But Murphy has yet to agree to a debate with Feinberg, or even commit the idea of having a debate.
The two men have spoken at the same event on two occasions, but never while the other was in the room. They have never shared a stage.
The campaigns blame each other for problems with various local debate invitations, and a detailed account from either campaign contains like a mix of mutual disdain and legitimate logistical problems.
Unlike the typical challenger, Feinberg isn't requesting a dozen debates – just one.
"That's all I've asked for, to put one debate on the calendar. The constituents deserve at least one debate," Feinberg said.
Murphy's camp cited his busy schedule.
"The Congressman has been at a number of speaking engagements with Evan but unfortunately, the Feinberg campaign has repeatedly chosen dilatory tactics that has prevented more events.  We are hoping they change course and begin to negotiate in good faith," said campaign manager James Genovese.
"I will debate Tim Murphy anytime, anywhere, under any format," Feinberg said.