WASHINGTON, Pa. – While reporting multiple dispatches for PoliticsPA from southwestern Pennsylvania since 2009, I have seen one consistent theme: In the outlying, largely rural counties around Pittsburgh, Republicans have been gaining and Democrats have been losing.
"It's been happening for a long time — a slow migration to the Republicans, people waking up and realizing, 'I have no place in the modern-day Democratic Party,'" said Mike Ward, a Republican strategist in the region.
"Even our Democratic members are pretty conservative," added Harlan G. Shober Jr., a Democratic commissioner in Washington County, south of Pittsburgh.
The midterm elections of 2018 didn't dramatically change this arc for Democrats in Beaver, Fayette, Greene, Washington and Westmoreland counties, the counties I've focused on in this series of articles. Each has more registered Democrats than registered Republicans, but over the past decade or two, their actual patterns of voting have turned consistently towards the GOP.
That said, 2018 can fairly be described as a pause in the decline in the Democrats' fortunes in the region, and maybe even as a modest uptick — the first I have seen in my travels here over the past decade. And this isn't counting Democratic gains in Allegheny County, which is dominated by Pittsburgh and its suburbs and which, if anything, is growing even bluer, as are most close-in metro areas in the United States.
The 2018 election results "still reflected the general pattern that these counties are moving away from the Democrats," said Mike Mikus, a veteran Democratic consultant who has most recently served as senior communications adviser for the state Democratic Party. "But the results also show what can happen if you invest and focus your time as candidate in these areas."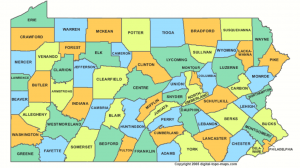 Here are some of the bright spots for Democrats in southwestern Pennsylvania in Election 2018:
Conor Lamb, fresh off winning a solidly Republican open U.S. House seat in the region during a special election this past summer, defeated incumbent Republican Rep. Keith Rothfus in a friendlier, Pittsburgh-area district on Election Day. In fact, the race wasn't even close: Lamb prevailed over the three-term incumbent, 56 percent-44 percent.
Lamb was "moderate and was not bashing the president, while not hugging him either," said Lawrence Maggi, a Democratic commissioner in Washington County and former congressional candidate.
Joseph DiSarro, a Republican state committee member and political science professor at Washington & Jefferson University in Washington, Pa., agreed. Lamb "is the model for candidates if they want to win in western Pennsylvania," DiSarro said. "They will be examining the Lamb campaign" for years to come.
The top statewide Democratic candidates on the 2018 ballot – Gov. Tom Wolf and Sen. Bob Casey – improved upon the party's 2016 performances, when Donald Trump had impressive coattails in the region and when Hillary Clinton's unpopularity hurt the Democrats up and down the ballot.
In 2018, Casey matched his 2012 performance in each of the counties we tracked, and he improved upon Kathleen McGinty's 2016 U.S. Senate showing by nine to 10 points in each county. Casey won Beaver County outright on his way to defeating Republican U.S. Rep. Lou Barletta statewide.
Wolf, for his part, improved modestly upon his own 2014 share of the vote in Beaver, Washington, and Westmoreland counties, and he won Beaver outright in 2018. Local Democrats credit Wolf's strong showing in Beaver to his support for a Shell ethane cracker plant now under construction. The chemical plant is expected to create 6,000 temporary construction jobs and 600 permanent jobs.
Wolf "paid a lot of attention to the plant and spent time promoting it," Mikus said.
Hugging Trump did not seem to help either Barletta or GOP gubernatorial nominee Scott Wagner, Mikus said.
"In the last week of the election, both Barletta and Wagner had Pittsburgh TV ads highlighting Trump's endorsement, but they they underperformed," he said.
Indeed, in populous Allegheny County, both Casey and Wolf took two-thirds of the vote, a significant improvement over their previous elections in 2012 and 2014, respectively.
On the other hand, those ads may have helped in Fayette and Greene counties, where Wolf's share of the vote plummeted between 2014 and 2018.
Democrats took advantage of a divisive Republican primary in the 38th state Senate district in the northern suburbs of Allegheny County. After insurgent Republican Jeremy Shaffer knocked off establishment GOP state Sen. Randy Vulakovich in the primary, Democrat Lindsey Williams was able to brush back

charges that she was a socialist

, winning 50.2 percent-49.8 percent on Election Day.
"Sticking with a moderate this year would have made more sense" for the Republicans, said Mike Butler, a Pittsburgh-based Democratic consultant.
Meanwhile, Democratic incumbent Pam Snyder held the 50th House district that she first won by in 2012. The heavily Republican district, which includes portions of Fayette, Green and Washington counties, gave Snyder almost 57 percent of the vote in 2018, up from 53 percent in 2016. She has solidified her position by virtue of her socially conservative stances, said Kirk Holman, a longtime political observer and onetime Republican official in California, Pa.
The Democrats also made some unexpectedly strong showings in historically unfriendly territory even when they lost.
Democrat Steve Toprani, a former Republican district attorney in Washington County, came within about a dozen votes of ousting incumbent Republican state Rep. Bud Cook in a Washington County-Fayette County district that Trump won easily. "This race was not expected to be as competitive as it turned out to be," Holman said.
Elsewhere, Democrat Michele Knoll lost only narrowly to Republican Valerie Gaydos for an open state House seat in suburban Allegheny County, 52 percent-48 percent. The seat was being vacated by Mark Mustio, a Republican who had held the seat since 2003 and who ran unopposed in 2016. "Republicans have never had to break sweat to win there," Butler said.
And in an open suburban Pittsburgh state House seat that Republicans have held since the 1960s, political novice Sharon Guidi, a Democrat, won 44 percent of the vote. Two years ago, the Democratic candidate won just 35 percent of the vote.
So why did Democrats manage  to avoid the terrible showing of 2016? To a large degree, they can thank strong turnout.
Both Casey and Wolf won more votes than Clinton did in Beaver, Fayette, Greene, Washington and Westmoreland counties – a striking result, given that 2018 was a midterm year, when turnout tends to fall significantly. (Democratic votes did fall modestly from 2016 in Allegheny County, but the Democratic margins were so strong that the decline didn't matter much.)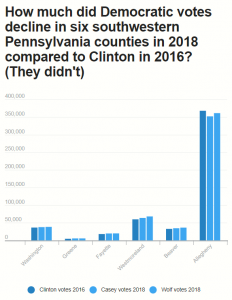 By contrast, Republican votes sagged in those five counties without Trump on the ballot. In each county, the number of votes for Barletta and Wagner were about one-third lower than what Trump received in 2016.
This pattern comports with political observers' anecdotal evidence.
In 2016, DiSarro volunteered to work on Election Day at a polling place in Prosperity, a tiny, unincorporated township in Washington County. The Republican turnout was so strong that he ran out of literature after only 40 minutes.
This year, by contrast, "there was not even close as much energy on the Republican side, in spite of the president's visits to western Pennsylvania," DiSarro said.
Democrats, he added, also benefited from a winning issue: raising doubts about Republicans' commitment to protecting pre-existing conditions. Not even a deeply personal campaign ad on the issue by Rothfus could salvage his candidacy.
"Health care was a 900-pound gorilla, because that is something that every person must face on daily basis," DiSarro said. "The issue reinforced feelings that Republicans are out of touch."
So that's the good news for Democrats in southwestern Pennsylvania.
But there was also some not-so-good news, too.
For starters, take a look at Trump's vote totals from 2016 in the chart above. In 2020 –when Trump will presumably be on the ballot again – the Trump vote that was hidden in 2018 will likely reemerge, offering Republicans in the region a much stronger environment up and down the ballot.
"Trump's base of support will be there regardless of what the economy does, because its not just the economy that draws them to Trump," said Jon Delano, the money and politics editor for KDKA-TV in Pittsburgh.
Another disappointment for Democrats was the congressional district that Lamb gave up to challenge Rothfus. Democrat Bibiana Boerio ran a disappointing campaign, observers agreed, losing to Republican Guy Reschenthaler, 58 percent-42 percent.
In addition, even in 2018 — in the most favorable environment possible for Democrats — Republicans came close to running the table in legislative seats outside of Allegheny County, said Chris Petrone, legislative director for Operating Engineers Local 66.
For instance, Democrats lost a state House seat that Democrat Brandon Neuman had won without opposition in 2016. In the 2018 general election for that seat, Republican Timothy O'Neal defeated Democrat Clark Mitchell, 56 percent-44 percent.
And Democrats' hopes of picking up the seat vacated by Republican Rick Saccone — the 39th, in Allegheny and Washington counties – withered on Election Day, as Democrat Robert Rhoderick lost to Republican Michael Puskaric, 56 percent-44 percent.
"If the Democrats were winning seats they were supposed to lose, then I would tell you they made gains, but that didn't happen," said Ward, the Republican strategist. "The other side will point to Lamb, but he's an outlier – the byproduct of a lot of favorable circumstances in the last year and half," notably the redrawing of the congressional district lines by the state supreme court.
Delano agreed that Democrats don't ultimately have much more to show for their 2018 efforts in southwestern Pennsylvania, at least outside of Allegheny County.
"If this area were trending Democratic, then mainstream, working-class, registered Democrats in Westmoreland, Washington, Fayette and Greene would be voting Democratic, and they are not," Delano said.
The same pattern is holding a bit further out, in Cambria County, which includes Johnstown, said Raymond B. Wrabley, Jr., a political scientist at the University of Pittsburgh at Johnstown.
"Despite the fact that the Democrats still hold a voter registration edge, Wolf and Casey lost handily in Cambria County," Wrabley said. "And despite all of his campaign ads and literature emphasizing his pro-life position and his NRA endorsement, five-term Democratic state Rep. Bryan Barbin was defeated, most likely due to the large number of straight Republican ballots cast."
The national Democratic Party's unease with energy extraction remains a significant drag on the party's prospects in this corner of the state, which has significant natural gas and coal deposits.
"When you have a national policy that seems to alienate folks in oil and gas, that affects how the Democratic Party is viewed," said Ward, the Republican consultant.
For those who can't wait for two more years to see how the region's politics develop, there will be a special election in the 37th state Senate district, the primarily Allegheny County district that Reschenthaler gave up in order to run for Lamb's old congressional seat. The race could be competitive, politicos said.
"There will be a debate – should a moderate or a conservative get the Republican nomination?" Ward said. "The grassroots may gravitate to a more conservative candidate, which may or may not be a good thing for the GOP's ability to keep the seat."