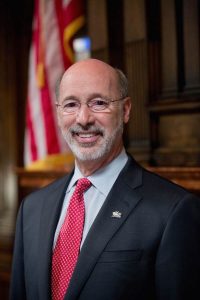 While Gov. Tom Wolf has already issued his support for Attorney General Josh Shapiro in the 2022 race for Governor, he will not endorse a candidate in the Democratic primary for U.S. Senate next year, according to the Philadelphia Inquirer. 
"I'm not weighing in on the primary," Wolf said in an interview Thursday with the Inquirer. 
Wolf added to the Inquirer that he's "letting the Democrats decide who they want in the primary, and then I will support that candidate."
The crowded Democratic field for U.S. Senate includes Lt. Gov. John Fetterman, Montgomery County Commissioner Val Arkoosh, State Rep. Malcolm Kenyatta (D-Philadelphia), Dr. Kevin Baumlin, and former Norristown Borough Council President John McGuigan. 
State Sen. Sharif Street (D-Philadelphia) filed a statement of candidacy with the Federal Elections Commission for U.S. Senate and formally announced his exploratory committee in April, while Rep. Conor Lamb (D-Allegheny) is also reportedly weighing a run. 
According to the FEC website, Brandaun Dean, Larry Johnson, Alexandria Khalil, Kyle Norton, and Alan Shank have also filed statements of candidacy for the Democratic primary.
Although Wolf is withholding an endorsement in the 2022 race, he backed a candidate the last open Senate race for Democrats. 
In 2016, Wolf endorsed Katie McGinty, his former chief of staff, in the Democratic primary over Rep. Joe Sestak (D-Delaware) and Fetterman.
The Inquirer reports that Wolf pointed out that Shapiro is "the only major Democratic figure said to be considering a run for governor," while the Senate race includes several candidates already. 
Wolf said to the Inquirer that all of the Senate candidates who have announced so far are "really good people," and he "would have no problem with any of them" getting the party nomination.