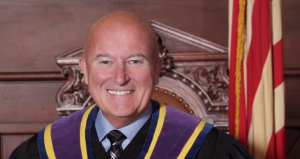 Former State Supreme Court Justice Seamus McCaffery is no stranger to scandals.
The Justice resigned in October after it was revealed he was among those who exchanged pornographic emails with employees in the Attorney General's office.
Additional details have now come out about another McCaffery scandal.
The Inquirer revealed Saturday that it had obtained documents regarding paid referrals that McCaffery's wife and judicial aide, Lise Rapaport, had received. Rapaport retired from her position when McCaffery stepped down.
Several of these referral payments, according to the documents, were not listed on forms that require officials to disclose all sources of household income. Overall, the Inquirer reported that since 2003, Rapaport was paid $1.2 million in referral fees from nine law firms for referring about 15 clients.
Rapaport, though, was not always the individual doing the referring. Documents, including internal notes and email correspondences from the law firms, have revealed that in several instances, McCaffery himself referred clients to specific law firms — many of which tried cases in front of the Supreme Court while McCaffery was on the bench.
An example is the case of Pennsylvania Turnpike worker Michael Connors. After Connors was injured, he was referred to attorney Samuel H. Pond at the Martin Banks Pond Lehocky & Wilson law firm. Pond's own notes attribute the referral to McCaffery, reading, "This gentleman was referred here to SHP by Judge Seamus McCafferty." (Pond's notes misspelled McCaffery's name.)
Pond eventually asked another law firm, the Philadelphia-based firm of Robert J. Mongeluzzi, to get involved in Connors' case, as well. When the case led to a settlement, it was Rapaport, not McCaffery, who was paid $4,900 by Martin Banks and $30,000 by the Mongeluzzi firm.
The Connors' case is simply one example of such an instance where Rapaport received the fee but McCaffery likely did the referring.
Referrals on McCaffery's part are thought by many law professors to cross ethical lines. Several law professors interviewed by the Inquirer said that as a justice, McCaffery was forbidden by the Code of Judicial Conduct from having a role in the referrals.
Neither McCaffery and Rapaport nor Pond responded to the Inquirer's request for comment on the situation.