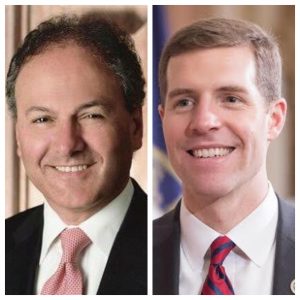 Some good news for two Pennsylvania Democrats in the western part of the state.
Inside Elections' Nathan L. Gonzales changed the ratings in 32 house races this week, which included PA-16 and PA-17.
Gonzales changed the race Rep. Mike Kelly (R-Butler) and Democratic challenger Ron DiNicola from "Solid Republican" to "Likely Republican." The race for PA-17 between incumbents (D) Rep. Conor Lamb and (R) Rep. Keith Rothfus moved from "Toss-Up" to "Lean Democratic."
Out of the 32 ratings changes this week, 30 were in Democratic candidates' favor.
Inside Election rates each race on a scale from Solid, to Likely, to Lean, to Tilt, to Toss-up.
As of now, Gonzales has 185 seats for Democrats as "solid and continuing Democrats", while the Republicans have 165 seats as "solid and continuing Republicans."
"That doesn't mean a majority is lost for the GOP, but it does mean there are a lot of fires around the country for Republicans to put out," Gonzales said in a video explaining the changes.