By Keegan Gibson, Managing Editor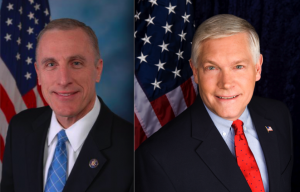 A morning meeting with Rep. Tim Murphy (R-Allegheny) and National Republican Congressional Committee Chairman Rep. Pete Sessions offered a few clues about 2012 GOP plans.
According to several western PA GOP insiders, the meeting included a "who's who of southwestern Republicans" – about 50 party leaders from Allegheny, Washington and Westmoreland counties. State committee members and local Allegheny County GOP chairs were on hand, as well as PA House Majority Leader Mike Turzai was on hand as well.
The presence of GOP leaders from the North Hills – the Republican-rich area currently in Jason Altmire's 4th district – had some attendees speculating that Murphy may hope to acquire the area for his own district.
Sessions discussed about the NRCC's target of picking up a net 16 seats nationally in 2012. He reportedly also talked about the GOP's aims to "firm up" PA's 12-member GOP delegation during redistricting – without elaborating on any plans to weaken Democratic districts.
While Sessions discussed the need to defeat Senator Bob Casey, he said that the party was still in need of a candidate.
Murphy and Sessions are currently hosting an NRCC luncheon at the Duquesne Club at $1,000 per plate. Keith Rothfus, the once and future challenger to Jason Altmire was on hand, as was former Critz challenger Tim Burns.
The meetings with party leaders are taking place only a few weeks after it came to light that some conservative activists in Murphy's district are hoping to recruit a primary challenger for the incumbent. Indeed Greg Wrightstone made a public call for possible recruits during an Americans for Prosperity event in Pittsburgh on Friday.