By David Gerber, Contributing Writer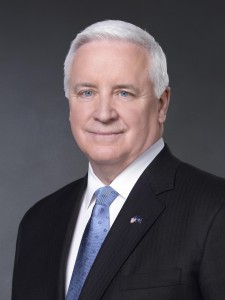 When it comes to disaster recovery, Democrats and Republicans agree that government spending is a good thing.
Governor Corbett this afternoon officially requested that President Obama declare a disaster in the parts of Pennsylvania affected by Hurricane Irene. He was joined by several members of PA's congressional delegation and local officials.
According to FEMA, such a declaration would put into motion long-term federal recovery programs, some of which are matched by state programs, and designed to help disaster victims, businesses and public entities.
Southeastern PA, including Bucks, Montgomery and Philadelphia counties, have experienced widespread wind damage and flooding this weekend. The Delaware River is above flood stage, and expected to crest at its highest level for over a century.
Bucks County is affected by the river more than anywhere in the state. Republican Congressman Mike Fitzpatrick today wrote to President Obama supporting Governor Tom Corbett's request for a major disaster declaration for the Commonwealth of Pennsylvania stemming from damages suffered in the wake of Hurricane Irene.
Fitzpatrick's statement included a similar urging from Bucks County Commissioner Charley Martin.
"I join with Congressman Fitzpatrick in urging the President to take immediate action on Governor Corbett's request so that Bucks County and our entire region can clean up and rebuild," he said.  "We stand ready to work with our state and federal partners for an efficient and swift effort."
Congressman Chaka Fattah (D-Phila) released a similar statement, as did Rep. Lou Barletta whose 11th district was affected by the storm.
"I want to extend my condolences to the families of those who were killed here in Northeastern Pennsylvania during this storm. They and their families will be in my thoughts and prayers."
Barletta also supports Gov. Corbett's request and said he would send a letter to the President immediately.
PA is lending a hand to our friends across the Delaware. New Jersey Governor Chris Christie tweeted earlier, "PA has sent ambulances to New Jersey. Thank you to Gov. Corbett."
Two days ago, Gov. Tom Corbett declared a statewide disaster emergency to enable state, county and municipal governments to respond effectively to the impact of Hurricane Irene. The proclamation authorized state agencies to use all available resources and personnel as necessary to cope with the emergency situation.