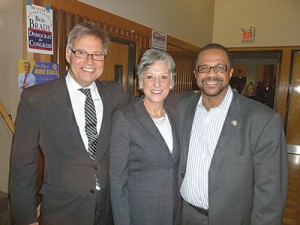 Allyson Schwartz is running for Governor. The Montgomery County Congresswoman said she plans to file the paperwork today.
"He's just missing in action most of the time," Schwartz told the Philadelphia Inquirer's Tom Fitzgerald in an exclusive interview. "What I'm hearing from people around the state is that they know we need a fresh perspective about the economy and growth."
She's the fourth Democrat officially to declare a bid, following former DEP Secretary John Hanger, pastor Max Meyer and former Revenue Secretary Tom Wolf. Former DEP Secretary Katie McGinty has formed an exploratory committee to run.
Pa. Treasurer Rob McCord and several others are also expected to run to challenge Tom Corbett.
"I'm running to be governor, not the 'first woman' governor," Schwartz said. "But the fact that I am the only woman in the congressional delegation and in a senior policymaking role, means people know I can beat the odds. I have brought a different perspective…it does change the dynamic."
Her staff told Fitzgerald that she will transfer her considerable congressional campaign cash – $3.1 million – to her gubernatorial account.
Her move opens the floodgates in PA-13, where a number of Democrats are eager to replace her in Congress.
Perhaps the most interesting tidbit in her announcement Monday is the man she tapped as her campaign chairman: Jonathan Saidel, the former Philadelphia City Controller who filed to run for her seat.
A few Democratic operatives tell PoliticsPA the move could signal a deal. Saidel is a close ally of Bob Brady, the Congressman and chair of the Philadelphia Democratic Committee. His support could help Schwartz sew up the nomination against the other Democratic hopefuls. Schwartz's support could help Saidel succeed her in Congress.