It's Scollo v. Marino in PA-10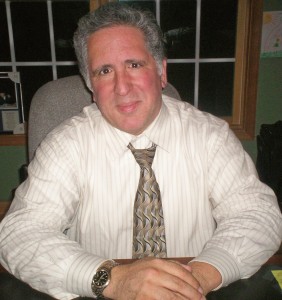 The 10th Congressional District is taking shape. Democratic businessman Phil Scollo of Pike County is challenging Republican incumbent Tom Marino (R-Lycoming).
Scollo, 56, lives in Dingman Township in Pike County with his wife Karen. They have three children and three grandchildren. He formerly worked as an insurance industry executive, and now runs a management consulting firm for large and small companies.
"America is an exceptional country. Pennsylvania is an exceptional state with exceptional people and resources. The people deserve an exceptional leader," he said.
Scollo said that he ended up getting involved in this race almost by accident. After finding out that Marino would've been running unopposed, Scollo decided to put his hand up. "In this day and age, to have a congressman run unopposed, is a travesty."
His platform is reminiscent of that of Rep. Chris Carney, who won election in the 10th district in 2006, but lost to Marino in 2010. Medicare, Social Security, jobs, fiscal responsibility, clean energy and "buy American" all feature in the issues section on his website.
He's following in Carney's shoes in more ways than one. Several members of the former Congressman's campaign staff have joined Scollo.
Vincent Rongione, who ran Carney's winning 2008 campaign, will be his campaign manager. Andrew Eldredge-Martin is Scollo's media consultant. He managed Carney's 2006 win. Ben Franks is Scollo's political director. He was Carney's field organizer in 2008 and then his political director in 2010.
"I'm honored to have Vincent, Andrew, and Ben standing up with me and the people of northeast and central Pennsylvania to end Washington's corrupt system of influence, money, and greed," Scollo said in a press release Monday.
But how strong a chance does he have?
Carney won the seat in 2006 thanks in large part to a favorable national environment for Democrats, on top of allegations that incumbent Rep. Don Sherwood had abused a women with whom he was having an extra-marital affair. Carney won re-election fairly easily in 2008.
However, Carney lost to former U.S. Attorney Marino by ten points in the Republican wave year of 2010. The district had a Cook Report Partisan Voting Index of R+8, meaning a generic Republican would defeat a generic Democrat by 8 points.
It's not going to be any easier this year. During redistricting, Republican map-drawers in Harrisburg added conservative voters in Juniata, Mifflin and Perry counties to the district, added more of Marino's home county of Lycoming, and cut out Democrats from Lackawanna and Luzerne counties. The district now has a PVI of R+12.
"It's no secret that the district, even with the redistricting, is stacked against me.  But I love being the underdog," Scollo acknowledge. "Winning in a conservative district will require mass amounts of support, regardless of party affiliation."
Dr. Jeffery Bosworth, a political science professor at Mansfield University, stated that "typically, incumbents have huge advantages. It takes a lot of money to overcome an incumbent, unless there are scandals involved or the mood of the electorate changes drastically."
Bosworth argued that that Sherwood scandal led to Carney's election, and that he re-elected because of the wave of change occurring with the Obama campaign. When Marino was elected, he noted, there was a dissatisfaction with the Obama administration.
"Changing parties now doesn't really make sense," Bosworth stated, maintaining that Scollo is fighting an uphill battle.
It's not impossible, though, should Scollo prove to be an adept fundraiser. Marino ended 2011 with just $194,000 cash on hand – below what is considered a strong showing for an incumbent.
In the 2010 cycle, Marino raised $713,000; Carney raised and spent $1.6 million
Expect Marino to campaign as though he's running from behind.
Jason Fitzgerald, Marino's campaign manager, said, "the easiest way to lose an election is to not take a challenge seriously."
"Congressman Marino has assembled a record in Congress of cutting taxes, supporting lower spending, eliminating excessive regulations, and fighting to make sure that our seniors and veterans get what they deserve. Marino made sure that the promises that have been made to the people have been kept," Fitzgerald said.
Marino's campaign strategy is to campaigning vigorously throughout the 10th District. Fitzgerald said he is very confident that Marino's positive message of economic growth and opportunity will carry him through the election.
Currently, Marino is in the process of building up his campaign staff. He plans to bring on a communications director and a finance director this month.
Fitzgerald says the Marino crew is, "looking forward to a spirited campaign and winning by a wide margin."
When asked about his campaign strategy, Scollo joked and said, "simply to win." Scollo's campaign plan involves traveling and meeting as many people, face-to-face, as he can, because "it isn't about me at the end of the day," he said, "it's about Pennsylvanians and their hopes and interests."