January 17th Playbook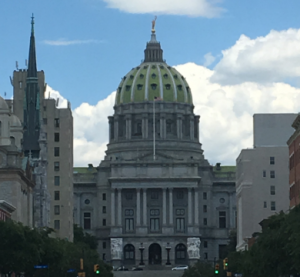 Scranton's Mayor denies any wrongdoing in regards to FBI probe, while Senate Democrats name committee members. Here is the Playbook.
Chester County GOP: Rick Loughery Unanimously Selected as New Chair: The Chester County Recorder of Deeds believes that "years of dedicated Republican leadership" has led to the success of the county.
Harrisburg & DC
WITF: Four more years of Wolf
AP: Pennsylvania sued over limits on state coverage of abortion
AP: After FBI raid, Scranton mayor denies wrongdoing
PLSReporter: Senate Democrats name committee members
PLSReporter: Senate Dems discuss the impact on Pennsylvanian's due to the US Government shutdown
PLSReporter: Philly Delegation rolls out ambitious plan for 2019-20 legislative session
PLSReporter: Cutler opens up about his new role as Majority Leader
Inquirer: New chancellor: Pa.'s 14 state universities should start operating more like a system
City Paper: New sexual harassment and assault service for PA students, low-wage workers to be announced
StateImpactPA: Students report problems breathing after US Steel fire
Philly Voice: Airbnb offers 'A Night On Us' to federal employees during government shutdown
Beaver County Times: Sens. Bob Casey, Pat Toomey bill would increase penalties for cyberstalking if victims are minors  
Harrisburg Patriot News: Wolf's greenhouse gas reduction vow is part of a bigger regional push to cut carbon emissions | Wednesday Morning Coffee
Philadelphia
Philadelphia Magazine: After Photo Surfaces, 3 Philly Pols Say They Won't Endorse Jewell Williams for Reelection
Inquirer: Working without pay, air traffic controllers appeal to Philly travelers
Inquirer: John Bogle, who founded Vanguard and revolutionized retirement savings, dies at 89
KYW Newsradio: Limo drivers ask 3rd Circuit to revive lawsuit accusing Uber of violating labor laws  
KYW Newsradio: Mass held for Philly officer who is still critically injured from motorcycle crash  
KYW Newsradio: Rendell remembers philanthropist Raymond Perelman  
KYW Newsradio: Wolf gets disaster declaration to help people affected by Overbrook apartment fires
SEPA
WHYY Newsworks: Chesco DA blasts Mariner East contractor's crass threats directed at pipeline opponent
Inquirer: Why should Jefferson's cancer center get property-tax exemption? asks suburban school district
Delco Daily Times: Scanlon named to House judiciary committee
Pottstown Mercury: Rep. Houlahan named to House Armed Services Committee  
Pottstown Mercury: Local lawmakers announce 'Victoria's Law' to end puppy mills  
Pottstown Mercury: Limerick vote on truck plan angers neighbors
Bucks County Courier Times: Bensalem school board rejects fact finder's report for second time   
Bucks County Courier Times: 2019 Bristol Township budget keeps tax millage steady
Pittsburgh
Post-Gazette: Fragmented local government a challenge in addressing pockets of high child poverty in Allegheny County
Post-Gazette: Trayvon Martin's mother talks loss, activism, Antwon Rose in visit to Pittsburgh
Post-Gazette: Braddock makes plans to choose successor to Fetterman
Post-Gazette: Chelsa Wagner seeks third term as county controller, with new targets
Post-Gazette: Wuerl apologizes, says he forgot he knew allegations against McCarrick
WESA: Activist Randall Taylor Becomes Second Candidate To Seek City Council Seat Held By Ricky Burgess
WESA: Some Utilities, Banks Extending Financial Help To Government Employees During Shutdown
Tribune Review: Mercer County DA takes stand to defend himself from obstruction charges
Tribune Review: State takes charge of debt-ridden Penn Hills School District's financial recovery efforts
Tribune Review: Greensburg Salem votes to keep any tax increase below state limit
Tribune Review: Gateway school board limits property tax rate increases
Tribune Review: Plum School District's 2019-20 school year budget talks have begun
City Paper: Pittsburgh Women's March to focus on progress, connections amidst national divide
City Paper: How Summer Lee's new UNITE PAC plans to bring everyone into the political fold
SWPA
Beaver County Times: Tony Amadio seeks Democratic nomination for fourth term as commissioner
Beaver County Times: Conway, Freedom schools tax collector Bohach seeks Democratic nomination for county treasurer  
Beaver County Times: Camp, Egley square off over financial contracts
Observer-Reporter: North Franklin residents voice concerns over police force disbandment  
Observer-Reporter: Mon Valley mourns Carroll Township fire chief
Altoona Mirror: Blair's Burke seeks Democratic nomination for commissioner
Johnstown Tribune-Democrat: Auditor Walls to run for re-election    
Johnstown Tribune-Democrat: Former Somerset County commissioner seeks to rejoin board  
Johnstown Tribune-Democrat: Plan to oust city manager scrapped; council approves budget
NEPA
Times-Tribune: Scranton mayor denies any wrongdoing regarding FBI probe
Times-Tribune: Cartwright gains new posts
Times-Tribune: Scranton School District moves one step closer to state takeover
Times-Tribune: Old Forge selects new board member during hostile meeting
The Times Leader: WVW could exceed state tax-hike limit, questions stormwater fee
Citizens Voice: Shutdown fallout: Early-arriving benefits could create confusion
South Central   
York Dispatch: Matt Menges launches bid to join father on York County Common Pleas Court bench
York Dispatch: Fines for most York City parking tickets going up
York Dispatch: Red Lion attorney Jonelle Eshbach announces York County judge bid
York Dispatch: York County school districts clamp down on crowdfunding
AP: University head yanks Confederate marker, is forced out
Carlisle Sentinel: Women's Rally debuts in Carlisle Saturday  
Carlisle Sentinel: Skip Ebert announces bid for Cumberland County DA  
Carlisle Sentinel: School Board Watch: Carlisle board could vote on staffing study
Harrisburg Patriot News: Harrisburg's school board tables appointment of new member   
Lehigh Valley
Morning Call: Tamaqua puts controversial policy allowing armed staff on hold
Morning Call: Allentown Council revisits tax hike discussion but takes no action
Morning Call: Allentown Council picks Roger MacLean for second year as council president
Express Times: Crews investigate suspicious package at Lehigh County Courthouse
Reading Eagle: Conrad Weiser School Board votes for tax-hike exception  
Reading Eagle: John Adams seeking 4th term as district attorney of Berks County
North by Northwest
Erie Times-News: Merski elected treasurer of House Democratic Northwest Delegation  
Erie Times-News: Erie City Council OKs public hearing on signs  
Erie Times-News: Deal proposed in first part of Erie marina tax case
Williamsport Sun-Gazette: Pulizzi seeks City Council seat
Williamsport Sun-Gazette: Software to track data and reduce recidivism under development
Williamsport Sun-Gazette: City Council to look at Newberry Park ordinance
Williamsport Sun-Gazette: Local efforts aid federal workers during shutdown
Opinion
Inquirer Editorial Board: One easy step toward fixing property assessment mess
Post-Gazette Editorial Board: No more secret hearings: DA showed poor judgment in Michael Rosfeld case
Steve Van Kuiken and Mike Kerlin: Is 2019 the year the Mid-Atlantic region becomes the nation's next big innovation corridor?
Abraham Gutman: Exposure to fentanyl doesn't kill but misinformation does
Michelle Kelly and Robert Leggiadro: Abandoned infants could have found safe havens
Ronnie Polaneczky: Drag-racing cop's apology was two years too late
Sally Pipes: Electronic records are driving doctor burnout
Conrad Benner: Paint the Walt Whitman Bridge rainbow to honor LGBTQ Philadelphians
Trudy Rubin: Are Trump's gifts to Putin the work of a gullible admirer rather than a mark of collusion?
Jenice Armstrong: Could this be the year that City Council gets its first openly trans member?
Brian O'Neill: Single-stream and prosper?
Dan Simpson: Major foreign policy issues are on the horizon in 2019