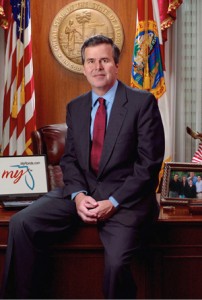 Move over Bill Clinton. The former President is handing over the keys to the National Constitution Center to former Florida Governor Jeb Bush.
He's the son of former President George H.W. Bush and brother of former President George W. Bush.
Based in Center City Philadelphia, the National Constitution Center is a central location for study and celebration of the founding fathers and their legacy. It's across Independence Mall from Independence Hall. It's a non-partisan non-profit.
"I am honored to have this opportunity and am humbled to follow in the footsteps of my beloved father, President George H.W. Bush, who first exemplified to me what it means to be a good citizen and to uphold the ideals expressed within the U.S. Constitution," said Bush in a center press release. "I will do my best to advance the Center's mission and continue the vision set forth by President Clinton's leadership these last three years."
"It has been a great honor to serve as the Center's Board Chairman for the past three years, and I couldn't be more pleased that Governor Bush will lead this world-class museum into the future," said Clinton, the outgoing Chair.  "Governor Bush will be an eloquent spokesman for the Center's mission and will work well with all of the Center's supporters regardless of party."