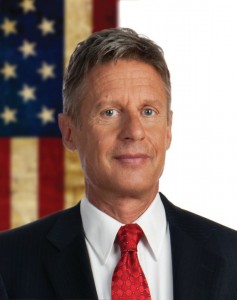 An attorney for Libertarian Gary Johnson's presidential campaign is accusing a private investigator hired by the Pa. Republican party of "Watergate-style dirty tricks," related to a recent ballot challenge.
In a letter to Philadelphia District Attorney Seth Williams obtained by PoliticsPA, Johnson General Counsel Alicia Dearn alleges that an agent of the PAGOP posed as an law enforcement official and attempted to bribe or intimidate witnesses.
"This information warrants serious investigation because the reported acts constitute felonies and show a scandalous level of illegal activity by the Pennsylvania Republican Party, if any of them are proven beyond a reasonable doubt," wrote Dearn, an attorney based in California.
Each of half a dozen witnesses, Dearn wrote, was approached by a man showing a badge and "giving the implied or express impression" that he was an FBI agent. He allegedly sought to pressure the circulators into testifying that they had falsified signatures on Johnson's behalf.
The PAGOP helped to coordinate the challenge of tens of thousands of petition signatures in an effort to disqualify Johnson, the former Governor of New Mexico, from the presidential ballot in Pa. A judge ruled 3 weeks ago that enough of Johnson's petitions are valid and he will remain on the ballot; the matter has been appealed.
Johnson's campaign hired a firm to collect the necessary signatures. During the course of his investigation, Dearn alleges, Reynold Selvaggio, a New Jersey PI hired by the Pa. GOP sought to intimidate those hired petition circulators.
"This man, identified by some of the witnesses as Reynold Selvaggio, offered petitioners money (the sum reported by most witnesses was $2000) and other benefits to testify that they had falsified signatures. He also threatened the petitioners with prosecution if they did not testify to falsifying signatures," wrote Dearn. A list of specific witness accounts is included in her letter (full copy below).
She said the she, as well as several of the witnesses she cites in her letter, are willing to participate in an investigation.
The Pa. Republican Party dismissed the allegations. "The claims are baseless. The fact remains that the Libertarians have stipulated that tens of thousands of signatures they submitted were riddled with fraud and errors," said spokeswoman Valerie Caras. "This is simply a distraction from their own questionable activities."
Selvaggio testified in court on behalf of the Pa. Republican Party during the Johnson hearing. PoliticsPA is seeking comment from him.
Here is Dearn's full letter: