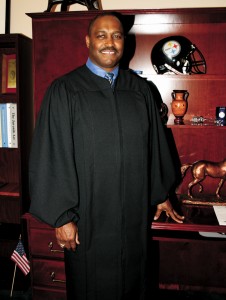 Judge Dwayne Woodruff declared his candidacy for Supreme Court in an announcement yesterday.
Woodruff, who currently serves on the Allegheny Court of Common Pleas, has been an advocate for juvenile justice, youth education and judicial education, during his time spent as Judge.
Currently, Judge Woodruff co-chairs the SAFE Workgroup, serves on the Educational Success and Truancy Prevention Committee, and is a past elected member of the Pennsylvania House of Delegates. In addition, he also serves statewide on the Juvenile Court Judges' Commission and is a member of the Allegheny County and Pennsylvania Bar Associations.
Woodruff is notable for having played 12 seasons as a defensive back for the Pittsburgh Steelers, where he served as team captain, won the team's MVP award in 1982, and played in Super Bowl XIV during his rookie year in 1980.
"For the last decade, I have had the honor to serve on the Allegheny County Court of Common Pleas," Woodruff said. "I am running for Supreme Court because I want to influence the court toward integrity and justice, and I am committed to serving the people of the Commonwealth of Pennsylvania."