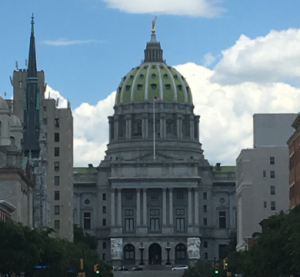 State Rep. Flo Fabrizio died yesterday at the age of 73. Here is the Playbook.  
Longtime State Rep. Flo Fabrizio Dies at 73: The state representative from Erie passed away this morning after a battle with cancer.
Monmouth Poll: PA17 Lamb 51, Rothfus 39: Monmouth Poll shows Lamb with a double digit lead, while Cook Political Report moves race from Toss Up to Leans Democratic.
Paul Mango Joins Trump Administration: The former Pennsylvania GOP candidate for Governor took a position with the Center for Medicare and Medicaid Services.
Harrisburg & DC
Capitolwire: FCC auction could boost broadband access in PA
Capitolwire: POINT OF ORDER: A closer look at the 'minimal' proposed Obamacare premium hikes for 2019
The PLS Reporter: Governor, Philly mayor emphasize early education investments
The PLS Reporter: DCED gives PA manufacturing initiative update, highlights positives
City and State: Women's March co-organizer Beth Finn announces Philly City Council bid
AP: Fabrizio, Pennsylvania House member from Erie, dies at 73
AP: Judge upholds state lawmaker killer's life sentence
AP: APNewsBreak: Pennsylvania pays fired university VP's lawyer
WITF: Casey stumps on economy, immigration in Harrisburg
WESA: Conservative Organization Criticizes $35M in Earmarks in PA Budget
WESA: Democrats Blast Wagner For Not Releasing Tax Returns
The Times Leader: Toomey urging sanctions against indicted Russian military officers
Philadelphia
Inquirer: Poll: Conor Lamb leads Keith Rothfus big, Dem enthusiasm high in key Pa. congressional race
Inquirer: Former Pa. gov candidate Paul Mango joins Trump administration
Inquirer: U.S. Department of Education investigating Temple business school scandal
Philadelphia Magazine: Made in America Isn't Going Anywhere
WHYY Newsworks: Old homes, high poverty make Philadelphia housing less than affordable for some
WHYY Newsworks: More parking tickets should mean more school books, activists tell PPA
Billy Penn: The future of abortion access in Pennsylvania could hinge on the governor's race
KYW Newsradio: Study finds Philly has highest disability rate of largest cities in country
SEPA
KYW Newsradio: EPA to seek public input on water pollution around Montco and Bucks military bases
Pottstown Mercury: Montco D.A. seeks sexual predator hearing for Bill Cosby
Pottstown Mercury: New superintendent named for Boyertown Area School District
Inquirer: This Bucks County, Pa., dad has primary custody of his kids, 16 and 4. Now, he faces deportation
Pittsburgh
Tribune Review: McKeesport medical marijuana grower announces expansion
Tribune Review: Greensburg Salem hires new superintendent
Tribune Review: Westmoreland commissioners to review potential voting systems
Post-Gazette: Some charges dismissed against Pittsburgh officer accused of attempted coverup
Post-Gazette: PennDOT urges self-driving companies to submit data on operations, but it's still voluntary
Post-Gazette: Paul Mango named to key Medicare & Medicaid Services post
Post-Gazette: Plum Borough school board votes to create in-district police department
KDKA: Young Republicans' Altered #WalkAway Social Media Post Angers Democratic Mayor's Chief Aide
SWPA
Beaver County Times: Fair districts PA says Independent Commission bills are dead but reform effort continues
Beaver County Times: Trombetta to spend up to 20 months in federal prison
Beaver County Times: School tax bills increase for 11 Beaver County districts
Observer-Reporter: Southwestern water to seek bids on Dunkard Valley project
Observer-Reporter: Low-interest loans available to those affected by South Hills flooding
Observer-Reporter: Ortitay appointed to school security committee
Altoona Mirror: Altoona Area School Board approves $300,000 in changes
Johnstown Tribune-Democrat: Former Pa. GOP chief Cleason named to post at Air Force Academy
NEPA
The Times Leader: County council mulls uses for leftover $60K in natural-gas funding
Citizens Voice: Major road, bridge projects planned
Citizens Voice: Councilwoman returns to serve in Swoyersville
Citizens Voice: Council votes to sell county-owner land
South Central
PennLive: Harrisburg residents say state-proposed tax increases will put city in death spiral
PennLive: In new ad, Wagner challenges Wolf to learn the issues. He needs to do homework, too
PennLive: 30 years after Rep. William Telek's murder, family recalls pain, loss at killer's hearing
York Dispatch: 'It's all on the line': Latino rally in York turns attention to November
York Dispatch: Political analyst: Many small donations a sign of enthusiasm for Dem in 11th District
Lehigh Valley
Morning Call: Wake-up Call: Could Conor Lamb topple a fellow member of Pa.'s congressional delegation?
Morning Call: Pennsylvania's Bill Shuster offers infrastructure ideas before time on Capitol Hill runs out
Reading Eagle: Counties take different paths to sue drug companies in opioid crisis
Reading Eagle: Reading water authority head confirms federal investigation
North by Northwest
Williamsport Sun Gazette: 2 council members blast mayor for 'last minute' cancellation of insurance meeting
Williamsport Sun Gazette: Loyalsock discusses next step of stormwater management
Williamsport Sun Gazette: Mayor to propose regional approach to managing levee costs
Erie Times-News: Capitol dome light display honors Erie's Fabrizio
Erie Times-News: Flo Fabrizio, Erie political stalwart, dies at 73
Opinion
Tribune-Review: Pa. not keeping up in funding for schools
John Baer: What Bob Casey says he's most proud of
Robert B. Sklaroff: Fitzpatrick ignores the right at his peril
Will Bunch: She warned America that Russia hacked our voting rolls. Why is she in jail?
Madonna and Young: The other Roe remains relevant today
Jerry Shenk: The Democratic media's 'Russia' deflection
Delco Daily Times Editorial: A good day for Boeing, & good day for Delco workers
Greg Reichard: Another View: Sen. McGarrigle lauded for school safety actions
Chris Freind: Milking an attitude of entitlement
Altoona Mirror Editorial: Reporting of records troubling
Michael Wear: Their view: Democrats are entirely too focused on abortion
PennLive: Pa. Republican congressman: 'I can't get into the president's mind' on Russia meddling