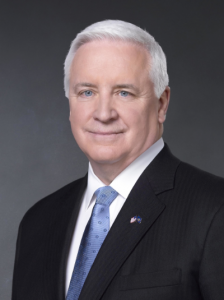 Gov. Tom Corbett and his critics will be watching (and spinning) Pennsylvania's employment numbers carefully over the next 14 months. The July report was a mixed bag.
The good news
Private sector jobs in the state increased by 4,000 last month.
The mediocre news
The unemployment rate stayed steady at 7.5%, breaking a two-month streak of the state's unemployment rate being lower than the national average (which is now 7.4%).
The state ranked 46th nationwide in job growth over the 12-month moving average. It's a slight tick down from June, when Pa. was 45th. The state's historic average is 34th.
In the past year, the Commonwealth has seen a net gain of 27,100 jobs.
The bad news
Because of a loss of 5,700 government jobs the state lost a net 1,700 jobs during the month of July.
Pennsylvania's job numbers are not unique. The nation, like the state, has seen growth in private sector jobs dragged down by losses in public sector jobs.
The reality of national trends, however, likely provides little comfort to Gov. Corbett, whose approval ratings suggest he is not helped by the state's job situation.
The fact that most economists believe a Governor has very little control over short-term economic performance didn't stop Corbett from making campaign trail boasts in 2010. Nor will it prevent Democrats from blaming the Governor for Pennsylvania's sluggish recovery in 2014.