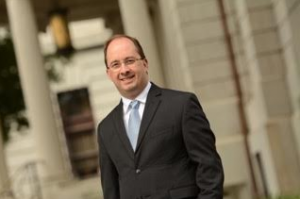 Judge Wade Kagarise is seeking a spot on the Pennsylvania Superior Court.
"Now more than ever we need judges who will keep the courts free from politically driven priorities," he wrote in a letter to Republican committee members. "It is for this reason that after prayer and encouragement from trusted colleagues and friends, that I will seek the Republican State Committee endorsement for a spot on The Pennsylvania Superior Court in 2017."
Judge Kagarise has served on the Blair County Court of Common Pleas since 2014 and was previously a Chief Deputy District Attorney.
He graduated from Indiana University in 1995 and received his law degree from the Widener University School of Law in 1997.
There are currently four vacant or soon-to-be open seats on the State Superior Court. Among the eleven non-interim members, the partisan breakdown is seven Republicans and four Democrats.