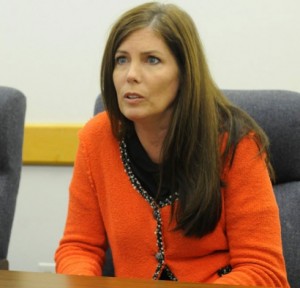 Attorney General Kathleen Kane is at the center of controversy…again.
According to Brad Bumsted of the Tribune-Review, the AG fired the head of the appeals office James Barker yesterday. Kane's spokeswoman Carolyn Myers described the move as part of a restructuring of the criminal division.
The issue? Barker is among those who testified to the grand jury that recommended charges be filed against the Attorney General.
The other problem? This "restructuring" seems to only involve the firing of James Barker.
"I don't believe I did anything wrong," Barker told Bumsted. "I don't know why I was fired. My firing was the first anyone heard anything about a restructuring."
When asked whether Barker had committed a fireable offense, Myers responded "I cannot say that." She did insist, though, that his dismissal was "absolutely not" related to his testifying.
Barker can't discuss what he said in his testimony although he is looking into whether a "protective order" for witnesses was violated by his termination.
Possible Implications
The key issue this episode raises concerns the Attorney General's credibility.
Was there really no personal motive involved in Barker's firing?
In a lengthy profile piece in the Inquirer last week, Kane asserted that she would never be petty enough to endanger her career over attacks and criticisms.
"I invested the time. I invested my family. We invested our resources into this," she said. "Do you honestly think I would ever risk that over something, over a newspaper article, that appeared in the [Philadelphia] Daily News on one day?"
The profile, however, was based around the idea of Kane the fighter and there were several indications that she is a person who doesn't take dissent well.
"They would discount my final decision," Kane said at one point about her aides. "And I would have to say it two, three, four times. And that's too many times."
While Risa Vetri Ferman mulls over the conclusions of a grand jury that the Attorney General was short-sighted enough to risk her career in order to punish a political opponent, the public now must wonder whether the same about this incident.
Update: Attorney General Kathleen Kane finally gave a reason for why Barker was fired.
He didn't prevent a grand jury leak.
"Restructuring was necessary for efficiency and tighter controls amid media reports of cases allegedly before a sitting grand jury. While not known yet who is specifically responsible for those leaks, supervisory accountability falls to the head of the unit," Kane's office said.
Barker told Bumsted that Kane's explanation was "unbelievable".
"That's the new excuse isn't it?" he said. "I have never leaked grand jury information. I don't know anything about it."
Kane denied that Barker was being fired for his testimony.
"There is not the slightest grain of truth to the notion that there is anything retaliatory about these restructuring and personnel changes. Any innuendo to the contrary is entirely false."
Kane did not identify what grand jury leaks she was referring to nor does this statement shed any light on why it took over 24 hours after Bumsted's initial report for the Attorney General to respond.