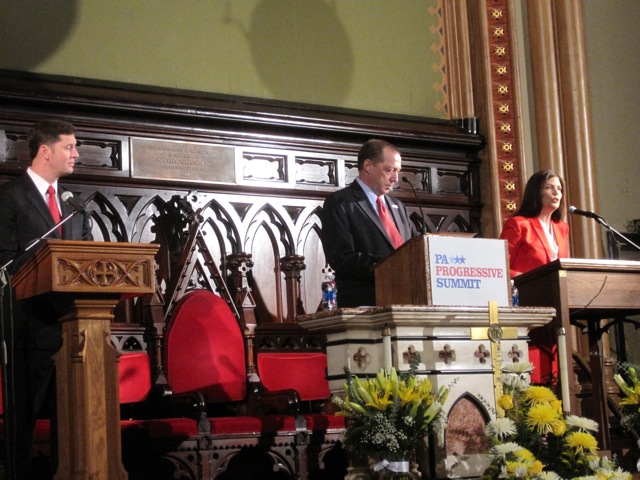 Philadelphia — Records were challenged, laws were interpreted and progressive values abounded Friday night, as Attorney General candidates Patrick Murphy and Kathleen Kane faced-off in a lively debate.
The debate held at the Arch Street United Methodist Church in Philadelphia, kicked-off the third annual Pennsylvania Progressive Summit. The summit marks the largest gathering of Pennsylvania progressives all year, with hundreds of progressive activists coming together at the Philadelphia Convention Center today and tomorrow to hold workshops, plan political action and of course, debate.
Approximately 150 people showed up to watch the verbal joust between former Congressman Patrick Murphy of Bucks County and former prosecutor Kathleen Kane of Lackawanna County. The crowd, a mixture of Murphy-button wearers and some vocal Kane supporters, were treated to a fiery debate that featured its fair share of disagreements on policy, despite the absence of a candidate from the conservative side.
"The Democrats are here and the Republicans are not, take that as you will," said SEIU-PA Executive Director and Keystone Progressive Board Chair, Eileen Connelly in her opening remarks.
After brief opening statements, both candidates took turns fielding questions from the audience on topics that ranged from gay marriage to gun control. As the questions rolled along there was plenty of agreement between the candidates on key progressive issues like supporting gay marriage and abortion rights, but it was also clear which topics played to their strengths.
Patrick Murphy's moment came when questions involving the environment and in particular the fracking debate, were brought up. Murphy received loud applause when he blasted Governor Tom Corbett and other Harrisburg legislators for the their inaction, saying that he would be the leader that would take on these special interests.
"Right now Pennsylvania's clean air and water are under attack like never before," said Murphy.
Kane's turn to shine came when the Penn State scandal was debated. Kane, who has a history of prosecuting child sexual abuse cases as a prosecutor, gave a detailed rundown of what she would of done differently, if she had been the Attorney General when the first allegations against Sandusky came out.
In her closing statement, Kane again brought up PSU again, reminding people that the next Attorney General elected will be handling the Sandusky case.
Although the overall discourse of the debate could be summed up as polite, there were more then a couple direct attacks between Murphy and Kane.
Murphy brought up how Kane had written "a little check" in support of the Corbett campaign when Corbett was running for the Attorney General position (she contributed $500 in Sept. 2008). Kane returned fire with a reminder that Murphy voted for George Bush.
Kane hammered home her record as a prosecutor throughout the debate, while seeking to cast doubt on her opponent's credentials. The Attorney General position, she said, is an independent office meant for a prosecutor.
"If you want a politician, you should probably vote for Mr. Murphy," said Kane.
Another point of friction between the two was the subject of campaign financing.  Kane pointed to her and her husband's financing of the campaign as not a sign of weakness, but a statement against special interests. "No one owns me," she said.
Murphy talked about his "grassroots army" of 25,000 donors, saying that he "wishes" he could write a $2 million dollar check for himself.
In the end both made compelling cases for why they should be the one to square off against the conservative opponent in November, while acknowledging the high stakes that the nomination brings. Since it became and elected office in 1980, a Democrat has never held the office of Attorney General.
Murphy Wins Straw Poll
However judging by the audience reaction, there is not much separating the two candidates as they hurtle into the next phase of the primary. The results of the straw poll taken by the Pennsylvania Progressive Summit confirm it. The summit announced that Patrick Murphy won a straw poll vote of debate attendees by a margin of 56.1 percent to Kane's 41.4 percent. 2.4 percent of the audience was undecided.
It was a strong showing for Kane, given the fact that Murphy had home crowd advantage. He is a southeast Pa. native and a hero in the LGBT community as the primary House sponsor of the repeal of Don't Ask Don't Tell – one of the gay community's biggest achievements in the past decade.
That said, Kane wasn't without a base, either. A significant segment of the progressive electorate is predisposed to supporting female candidates.