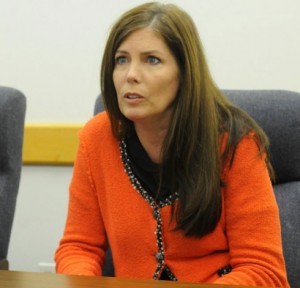 Becky Berkebile wrote a public defense of Attorney General Kathleen Kane. She is now Director of Drug Control Programs and the recipient of a $11,000+ raise.
Are these two events connected?
That is one of many questions raised by the latest report from Brad Bumsted of the Tribune-Review.
Last month, Berkebile sent out a public defense of the AG to newspapers throughout the state.
"Recent news coverage about staff turnover and other controversies involving the Pennsylvania Attorney General's Office seem to suggest that the office is out of control. It is not," Berkebile wrote. "As an employee of the office and an insider with no ax to grind, I can tell you that Attorney General Kathleen Kane is in firm command of those aspects of her office with which I am familiar."
Now records show Berkebile is Director of Drug Control Programs, a new position, and received a raise from $42,000 to $53,300.
Kane's spokesman Chuck Ardo told Bumsted Berkebile was promoted earlier this year, before writing the letter, and the new title and salary only recently kicked in.
It's perfectly possible that this is the case but it raises questions about the well-worn controversy concerning Kathleen Kane and loyalty.
In the past few months, the Attorney General has: 1. fired James Barker, the former head of the appeals office, who also happened to testify against her 2. hired Jonathan Duecker to be here Chief of Staff, despite H.R. recommendations against the move 3. gave Duecker responsibilities previously held by Deputy Bruce Beemer, who also testified against her 4. fired George Moore, the H.R. representative who warned her not to hire Duecker.
Given all this, it is hard to give Kane the benefit of the doubt when it comes to choosing employees based on ability and not loyalty.