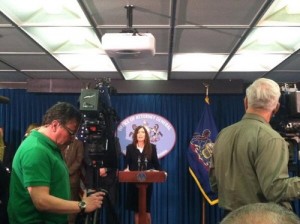 Just days after Attorney General of the Commonwealth of Pennsylvania Kathleen Kane was formally arraigned and charged, the date for a news conference regarding these charges has been set.
Her spokesman, Chuck Ardo, has stated that she will answer questions regarding her arraignment at a Capitol news conference on Wednesday.
According to her office, the presser will take place at 1:00 in the Capitol Media Center.
Kane faces a total of eight charges, one felony and seven misdemeanors. They include leaking secret grand jury information and perjury. Amidst these charges, Kane does not intend to resign and continues to maintain her innocence.
Her lawyer, Ross Kramer, reiterated Kane's plans to maintain her office and her claim of innocence.
A preliminary hearing is currently scheduled for August 24.