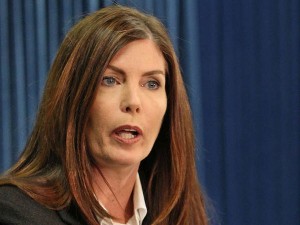 The Attorney General is under fire and her staff is on edge.
A new report from Angela Couloumbis and Craig R. McCoy of the Inquirer, shows just how deeply the AG's troubles have spread throughout the office.
Among the more surprising revelations include the fact that employees have their phone records continually scrutinized by supervisors, to the point that they're avoiding the office phones altogether.
Another tidbit seemed to come straight out of the Watergate Era.
"Others say they have begun sticking tape on their doors before leaving at night because, rightly or not, they fear their offices are being searched once they depart," Couloumbis and McCoy write.
Finally, it was reported that Kane's controversial Chief of Staff Jonathan Duecker is just as polarizing inside the office as he is outside the office. Duecker has gone as far as to ask most of the staff to resubmit their resumes, leaving the impression that a new round of layoffs could be on the horizon.
The Attorney General, though, still has faith in Duecker. She even tried to get the FOP to issue a statement of support for him but was unsuccessful.
This report suggests Kane may need to get her own house in order before she can attempt to win another term.