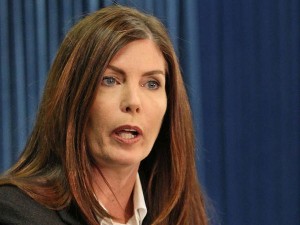 The Attorney General is shaking up her staff…again.
Kathleen Kane has made changes to three positions within her office. Among the changes are a new Chief of Staff, Legislative Director, and Assistant Press Secretary.
The move comes in the wake of a tough year for the Attorney General. Kane went through a PR nightmare in November, in regards to the pornographic email scandal. Last week, our reader poll found 62% disapprove of the job Kane has done in office.
Blake Rutherford, former Chief of Staff to the Arkansas Attorney General, will become Kane's Chief of Staff, effective December 15th. Current Chief Operating Officer David Tyler will leave his position on December 12th.
"We are excited about adding Blake to our team," Kane said in a statement. "He has demonstrated his commitment to public service, and he brings extensive experience that will benefit this office and the Commonwealth in the coming year and beyond."
In addition to adding a Chief of Staff, Kane hired two additional personnel. The first is Mike Stefan, who was appointed Legislative Director. The second is Cathryn Hinesley, who was hired to be Assistant Press Secretary.