Kelly's Q4: Net Loss of $13K
By Danielle Ardner, Contributing Writer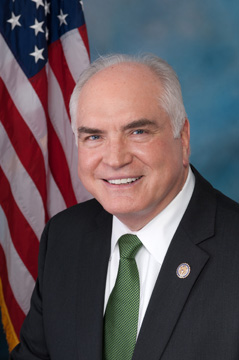 Update: The Kelly campaign says it finished Q4 in positive territory. A spokesperson cited a clerical error and said the campaign would file an amendment to its FEC report Friday.
Erie – U.S. Rep. Mike Kelly of Butler County released his fourth quarter fundraising numbers Tuesday. In October 2011, Kelly's cash on hand was $239,847.27. At the end of December, Kelly reportedly had $226,610.96, a $13,236.31 net loss.
Kelly's total fourth quarter haul was slightly above $100,000. His biggest contributor was the International Union of Operating Engineers, located in Pittsburgh.
The total disbursements, including operating expenditures, transfers to other authorized committees, loan repayments, and refunds of contributions to individuals and political party committees, added up to $117,189.47.
His disbursements were standard for the most part, but included a $12,000 check to Kelly himself to repay loans he'd made to the campaign in 2010. It also included a $16,000 bonus to the Bellwether Consulting Group as a, "Fundraising Bonus for Meeting Goal."
He may not need too big of a war chest. In addition to a more reliably Republican district which he acquired as a result of redistricting, Kelly will enjoy the benefits of a crowded Democratic primary field.
Democrat Missa Eaton, an assistant professor of psychology at Penn State Shenango announced her bid for Kelly's seat January 19th.
"I will be an independent voice for Western Pennsylvania, standing up to those who would end Medicare as we know it or block middle class tax breaks while fighting to protect tax cuts for Big Oil and billionaires," Eaton said.
On the 26th, Lawyer George Schroeck announced his intention to displace Kelly from Congress. Schroeck has been practicing law in Erie for 40 years and, according to the Erie Times-News, Schroeck plans to "help the United States of America get back on its feet."
"As a Democrat in the House, I would be a voice for the people," Schroeck said. "I would help the president make the changes our country needs."
February 1st brought yet another Dem who plans to extract Kelly from his seat: Mel Marin. An Erie native, Marin has been in the headlines for suing local government officials, police departments, and for running against Kathy Dahlkemper in 2010, earning 27 percent of the vote in that race.
Marin holds some stridently conservative views. The Harold of Sharon, PA quoted his flier which states that Americans have killed 40 million people "by legalizing genocide, calling it abortion" and "Republicans forced Medicare to kill 20 million by pushing seniors into 'hospice.'"
"An entire generation will die of AIDS if we do not stop the same-sex campaign in adoptions and schools," Marin said.
Big promises come from both Eaton and Schroeck, in hopes to uproot the Republican freshman incumbent. Marin, on the other hand, seeks to impose strict traditionalistic views. The 3rd District is heating up.
Keegan Gibson contributed to this report.