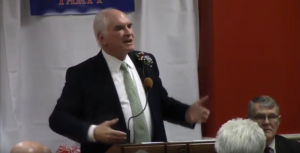 Congressman Mike Kelly (R-Butler) found himself with his own "47%" moment over the weekend.  
At the Mercer County Republican Pa Lincoln Day dinner over the weekend, Kelly said there is one reason former President Obama was staying in D.C.  
"He is there for one purpose and for one purpose only.  And that is to run a shadow government that is going to totally upset the new agenda," Kelly said, according to Philly Clout.
You can view the video here:
Kelly has been rumored as a possible candidate for Governor, and campaigned with Trump at his western Pennsylvania events, says he was talking with Republicans and speaking to their frustrations.
"Rep. Kelly delivered his remarks to an audience of fellow Republicans in Mercer County last Saturday. He was sharing the frustration of everyone in the room over how they believe certain Obama administration holdovers within the federal bureaucracy are attempting to upset President Trump's agenda," Kelly's spokesman Tom Qualtere said in an email.
Obama is staying in D.C. so his youngest daughter can finish high school.  
This is the latest cautionary tale for candidates speaking to what they view as friendly rooms.  In these rooms, candidates will say what they think a room wants to hear, which oftentimes is not what was scripted.  These comments can set the narrative for an entire campaign.  
Mitt Romney was haunted by his 47 percent comment in the 2012 Presidential election, that Democrats used against him for the rest of the campaign.  Hillary Clinton had her basket of deplorables comment that Republicans used in the 2016 Presidential campaign.  
The Democratic Party is likely to try to make these comments the same for Kelly.  
"While Congressman Kelly is peddling conspiracies and alternate realities, people in the real world are concerned about real issues," Pa. Dems Executive Director Sinceré Harris said in a statement.