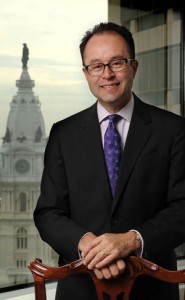 While most of our attention has been focused on November, the battle for the Democratic nomination in the Philly mayoral contest next May is starting to heat up.
Ken Trujillo, a Philadelphia lawyer who served as City Solicitor under former Mayor John Street, will hold a press conference Wednesday at 9:30 a.m. in front of the Philadelphia School District building to share his vision for Philadelphia. Chief among his concerns is educational reform for Philadelphia schools.
Trujillo considers his political path to be atypical. Born in Espanola, New Mexico he rose from impoverished beginnings to become the first in his family to attend college. Trujillo is a graduate of Penn Law and has served as an Assistant U.S. Attorney where he was best known for prosecuting various drug rings in North Philadelphia. Trujillo founded his own law firm, Trujillo Rodriguez & Richards, LLC in 1997. An Obama supporter, he worked on the President's 2008 campaign as well as the transition team after the election.
"I really do think Philadelphia is at an inflection point," he told the Inquirer earlier this year. "I think my experience prepares me well to offer a compelling vision for our future and lead a serious conversation about our city's challenges on public schools, job creation, and crime."
In joining the race, Trujillo has hired noted campaign manager Bill Hyers who ran the mayoral races for New York City Mayor Bill de Blasio and current Philadelphia Mayor Michael Nutter.
Trujillo has long been politically active, serving on the Pennsylvania Intergovernmental Cooperation Authority (PICA) and the Gaming Board Control Board overseeing the state's finances. As city solicitor he redesigned gun control legislation for Philadelphia and other cities when he successfully sued top gun manufacturer Smith & Wesson, citing that their product had created a nuisance in Philadelphia. He also played a key role in the development of the Eagle's Lincoln Financial Field and the Phillies' Citizens Bank Park.
During this time, Trujillo launched the city's leading anti-poverty organization, the Congreso de Latinos Unidos Inc. The nationally-recognized organization brings health and social services, comprehensive education and employment to over 14,000 individuals a year.
Trujillo joins Terry Gillen, former top aide to Mayors Michael Nutter and Ed Rendell, as the two candidates to officially declare their candidacy in the Democratic primary. There are still many potential candidates that may jump in the race, though, and no one is considered at the moment to be the favorite.