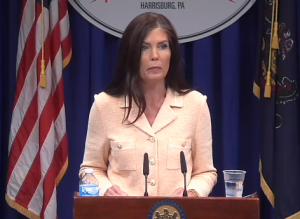 With the Kathleen Kane trial underway, the AG's defense appears to revolve around their claim that she simply "forgot" that she signed an oath to uphold grand jury secrecy.
"No one goes through life without making honest mistakes," Kane's lead attorney, Gerald Shargel, said during opening arguments on Tuesday, referring to Kane's alleged lapse in memory.
Kane's attorneys asked two prosecution witnesses about the grand jury oaths that they had signed during cross examination.
Douglas Rosenblum, another Kane attorney, called up two grand jury oaths that were signed by Kane's former First Deputy Bruce Beemer in 2015; one signed on May 28 and one signed on June 30. Rosenblum repeatedly asked Beemer if he had forgotten about one of the oaths.
"If someone came to me and said 'we have more grand jury oaths to sign' — we do them routinely," Beemer stated. "I probably don't even look at the numbers…I can't say why I signed the second one…I don't know that, on June 30th of 2015, if I forgot or not or if they handed me one and I didn't really look."
Seth Farber, another member of Kane's team, asked prosecution witness David Peifer about the environment around signing grand jury oaths including who was there, and the pace of the signing.
Peifer commented, "Well, you signed them," on the speed of signing the documents, and recalled the people who were at the signing of the grand jury oaths in 2013 when Kane originally took office.
Adrian King, Kane's former first deputy attorney general, was the last witness on Wednesday at the trial, and it appeared evident that a once friendly relationship had been dissolved.
King referred mostly to Kane as "the defendant" and after Kane's legal team began attacking King's alleged conflicting statements and dates he had provided under oath with regards to the Kane case, King stated: "It became clear that the Attorney General and Mr. Morrow," he said, "were trying to frame me."
During his testimony, King recalled that on April 23rd he was given an envelope by Kane that he thought contained "campaign materials," and delivered this envelope to Morrow without looking inside. Prosecutors claim that this envelope contained the secret grand jury materials in question.
The defense will continue its cross-examination of King Thursday morning.