Kistler to Withdraw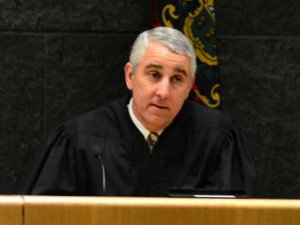 That was fast.
The latest judicial withdrawal happened before the Judge could even get on the State Supreme Court.
Last week it was revealed that Judge Thomas Kistler, the Republican nominee of Governor Tom Wolf to fill one of the two PA Supreme Court vacancies, distributed a racially insensitive email.
According to John Micek of the Patriot-News, Kistler is now removing his name from consideration.
Earlier this month, Gov. Wolf named Kistler and Ken Gormley to fill the seats of retiring Chief Justice Ron Castille and recently resigned Justice Seamus McCaffery. The term will last until the election in November.
Update: Governor Wolf has accepted Kistler's withdrawal and released the following statement:
"Today, Judge Thomas Kistler voluntarily withdrew his nomination to the Supreme Court of Pennsylvania and I accepted. I will make no further nominations, and Senate Leadership has said they will not hold hearings for either of the existing vacancies on the Supreme Court."