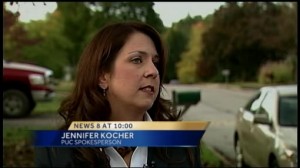 Senate Majority Leader Jake Corman announced today the hiring of Jennifer Kocher as Press Secretary for the Senate Republican Caucus.
For the past nine years, she served as Press Secretary of the Pennsylvania Public Utility Commission. Kocher is a graduate of Penn State University, where she received a bachelor's degree in journalism.
Kocher will officially begin on January 14, 2015.
Corman is pleased with the hire, saying, "I am confident she will serve our caucus well and be a tremendous resource to both our members and the media."
Senator Corman (R-Centre) took over as Majority Leader after winning an intraparty battle with Senator Dominic Pileggi (R-Delaware) in November.