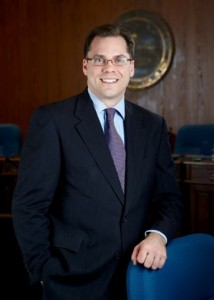 The first endorsements in the Democratic primary for Lieutenant Governor are in. Harrisburg City Councilman Brad Koplinski rolled out a list of more than 100 supporters Thursday.
"Brad has been a leader for our municipalities and making sure they get a fair shake from the Commonwealth," said Det Ansinn, President of Doylestown Borough Council. "He will do an even better job doing that as Lieutenant Governor."
They range from County Commissioners to Mayors, from county party chairs to state committee members, and represent 40 counties.
"I appreciate the support of all of these outstanding Democratic leaders," Koplinski said. "Our campaign is resonating throughout the entire Commonwealth and I know we will continue to build strength as the campaign progresses."
The race for LG has two declared candidates: Koplinski and Bradford County Commissioner Mark Smith.
State Sen. Larry Farnese (D-Phila) Wednesday floated his interest in a bid. He joined former Congressman Mark Critz (D-Cambria), Northampton County District Attorney John Morganelli, state Rep. Brandon Neuman (D-Washington), and state Sen. John Wozniak (D-Cambria).
Here is the full list:
Adams County
Patricia Manning – Democratic State Committeewoman
Emma Seibert – Vice Chair, Tyrone Township Board of Supervisors
William Troxell – Mayor, Gettysburg Borough
Marcia Wilson – County Democratic Vice-Chairwoman
Allegheny County
John Fetterman – Mayor, Braddock Borough
Jean Milko – State Committeewoman & Former Vice Chair, Democratic Party of Pennsylvania
Armstrong County
Mark Mantini – Mayor, Ford City Borough
Chuck Pascal – Former Mayor, Leechburg Borough
Beaver County
Dwan Walker – Mayor, City of Aliquippa
Berks County
Ron Skomitz – Democratic State Committeeman
Rosie Stouffer – Democratic State Committeewoman
Elaine Swavely – Democratic State Committeewoman
Manan Trivedi – Former Democratic Nominee, 6th Congressional District
Blair County
Frank Rosenhoover – South Central Democratic Caucus Chairman & County Democratic Chairman
Bucks County
Det Ansinn – Council President, Doylestown Borough
Stephanie Fineman – Democratic State Committeewoman
Kevin Kelly – Councilman, Doylestown Borough
Brad Kirsch – Democratic State Committeeman & Chair, Senior Caucus, Democratic State Committee
Diane Marseglia – County Commissioner
Kathy McQuarrie – Democratic State Committeewoman
Matthew Sinberg – Mayor, Yardley Borough
Butler County
Margaret Stock – Mayor, City of Butler
Carbon County
Emmett McCall – County Recorder of Deeds
Billy O'Gurek – County Democratic Chairman
William O'Gurek – County Commissioner
Centre County
Elizabeth Goreham – Mayor, State College Borough
Don Hahn – Council President, State College Borough
Ruth Luse – County Jury Commissioner & State Committeewoman
Ruth Rudy – Democratic National Committeewoman, Democratic State Committeewoman & Former State Representative
Chester County
Dana Dugan – Councilwoman, Borough of Phoenixville
Lani Frank – Democratic State Committeewoman
Mary Ann Good – Democratic State Committeewoman
Bill Scott – Democratic State Committeeman
Michelle Vaughn – County Democratic Chairwoman
Josh Young – Commissioner, Caln Township Board of Commissioners & Democratic State Committeeman
Clearfield County
Rodger Baumgartner – County Democratic Chairman
P.J. Monella – Statewide Coordinator, PennAG Dems
Bill Shaw, Jr. – District Attorney
Clinton County
Dean Reynolds – County Democratic Chairman
Cumberland County
Bruce Hockersmith – Mayor, Shippensburg Borough
Tim Scott – Councilman, Carlisle Borough
Sandy Wolfe – State Democratic Committeewoman
Dauphin County
John Campbell – Treasurer, City of Harrisburg
Denai House – Councilwoman, Steelton Borough
Marilyn Levin – County Democratic Chairwoman
Dan Miller – Controller, City of Harrisburg and Democratic State Committeeman
Alex Reber – LGBT Caucus Chair, Democratic State Committee
Sandra Reid – Councilwoman, City of Harrisburg
Eugenia Smith – Vice President, City of Harrisburg City Council
Gene Stilp – Former Democratic Nominee, 11th Congressional District & Activist
Bruce Weber – Councilman, City of Harrisburg
Wanda Williams – President, City of Harrisburg City Council
Susan Brown Wilson – Councilwoman, City of Harrisburg
Delaware County
Nancy Baulis – Democratic State Committeewoman
Sharon Coleman – Council President, Lansdowne Borough
John Linder – Mayor, City of Chester
Esther Lites – Councilwoman, Darby Borough
Richard Lowe, Mayor, Swarthmore Borough
Marianne Saylor – Council Vice President, Lansdowne Borough
Bill Smith – Chair, Auditors and Former Councilman, Lansdowne Borough
Helen Thomas – Mayor, Darby Borough
Jayne Young – Mayor, Lansdowne Borough
Elk County
Jennifer Anderson – County Democratic Chairwoman
Ron Beimel – Former County Commissioner
Jeff Krieg – County Sheriff
Bob Roberts – Former County Democratic Chairman
Peggy Schneider – County Treasurer
June Sorg – County Commissioner
Erie County
Cas Kwitowski – Controller, City of Erie
Franklin County
Peter Lagiovane – Mayor, Chambersburg Borough
Sheri Morgan – Democratic State Committeewoman
Fulton County
Irvin Dasher – County Commissioner
Joy Dasher – County Democratic Vice Chairwoman
Rheon Gelvin – County Democratic Chairman
David Gourley – Democratic State Committeeman
Huntingdon County
Derrick Magnotta – Immediate Past President, Pennsylvania College Democrats
Indiana County
Lori Rittle – Democratic State Committeewoman
Juniata County
Jamie Hackett – Democratic State Committeewoman
Gregg Specht – County Democratic Chairman
Lackawanna County
Ed Karpovich – County Treasurer
Justin Taylor – Mayor, City of Carbondale
Lancaster County
Ben Donahower – Democratic State Committeeman
Phil Lastowski – Councilman, Millersville Borough
Bruce Slater – Democratic State Committeeman & Chair, Progressive Caucus, Democratic State Committee
Todd Smith – Councilman, City of Lancaster
Janet E. Spleen – Democratic State Committeewoman
Jose Urdaneta – Councilman, City of Lancaster
Lebanon County
Monica Kline – Democratic State Committeewoman
Franz Messerschmidt – Democratic State Committeeman
Chris Tarsa – County Democratic Chairman
Lehigh County
Patricia Smith-Mendsen – Former Democratic State Committeewoman
Luzerne County
Dan Hartman – Democratic State Committeeman
Keith Moss – Mayor, Dureya Borough
Rebecca Sammon – President, Pennsylvania Young Democrats & Democratic State Committeewoman
Lycoming County
Jessie Bloom – Former County Democratic Chairwoman
Richard Gahr – Democratic State Committeeman
Mifflin County
Donna Frank – Democratic State Committeewoman
Allen Levin – County Democratic Chairman
Montgomery County
David Fritz – President, North Penn Democrats & Former Democratic State Committeeman
Rick Taylor – Former State Representative
Maria Weidinger – Councilwoman, Plymouth Township
Northampton County
Olga Gonzalez – Democratic State Committeewoman
Northumberland County
Jim Boylan – Democratic State Committeeman
Perry County
Mary Colledge – County Democratic Chairman
Stephen Naylor – County Commissioner and Democratic State Committeeman
Philadelphia County
Danny Bauder – Vice President – Pennsylvania Young Democrats & Democratic State Committeeman
Pike County
Liz Forrest – Democratic State Committeewoman
Schuylkill County
Charlie Dries – Democratic State Committeeman
Joe Groody – County Sheriff
Gary Hess – County Commissioner
Hugh Reiley – County Democratic Chairman
Tim Seip – Former State Representative
Diane Tobin – Commissioner, Pine Grove Township
Snyder County
Steve Hoffman – Democratic State Committeeman
Union County
Barbara Sundin – Democratic State Committeewoman
Rick Thomas – County Democratic Chairman
York County
Kathleen Lucas – Democratic State Committeewoman
Ruth Ann Shaffer – Democratic State Committeewoman