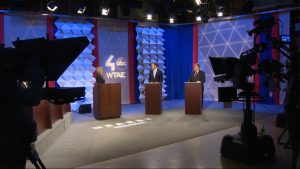 Democrat Conor Lamb and Republican Rick Saccone met on WTAE for a debate ahead of the March 13th special election that was sponsored by the League of Women Voters.
Lamb and Saccone exchanged sharp words on multiple topics, including steel tariffs, gun control, Social Security and Medicare.  
Both candidates agreed with President Trump's decision to place a tariff on imported steel, but Lamb accused Saccone of acting against the interests of steel workers.
"He (Saccone) has voted in Harrisburg repeatedly to allow in our public construction projects the use of foreign steel instead of American steel. He's voted repeatedly against our steelworkers who are in unions," Lamb said according to WTAE.  
Saccone defended the votes Lamb alluded to saying "I've stood for the union workers, and that's why they've voted for me in droves" according to the Post-Gazette.  
On gun control, Lamb reiterated his support for increasing the age to buy semi-automatic rifles to 21 while Saccone remains against increasing the age limit.  
On Social Security and Medicare, Saccone said he has "no plans, I have not advocated, I never would, cutting Social Security or Medicare."
"I think its time for Mr. Saccone, if he believes that, to stand up and say he opposes the $250-billion dollar cut to Medicare that is in President Trump's budget right now," Lamb said in response.