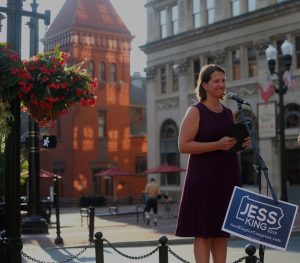 "An America for All of Us" reads the homepage of Jess King for Congress. Jumping in as the third democrat in the race to challenge Congressman Lloyd Smucker (R-Lancaster).
Born and raised in Lancaster county, King is now the director of the nonprofit economic development organization, ASSETS, "one of Lancaster's most innovative organizations." ASSETS strives to support Pennsylvania workers to start small businesses and motivates business owners to continually improve their social and environmental impacts. She will take a leave of absence from her position to enter the Congressional race. King hopes to be a 'fighter for working families' and a 'leader that listens.'
"I have focused my entire career on fighting for working people and working communities," King told LNP. "But honestly when it comes down to it, it hasn't been enough. And it feels like federal policies that impact working people are just going in the wrong direction over and over."
King never anticipated running for public office, but growing frustration with Trump's administration and encouragement by community members persuaded her to enter, in hopes of changing the conversation.
Among her top concerns are supporting what she feels is a forgotten middle class; ensuring that every American who wants a job can get a job, guaranteeing a quality public education to citizens, expanding Medicare and raising the minimum wage. King also wants citizens of the 16th District to recognize the importance of rejecting pipelines and extractive industries that "enrich oil and gas executives while leaving our land and water permanently polluted."
"We have an opportunity to build a bigger table, not a higher wall," says King.
The 16th Congressional district covers most of Lancaster county, as well as some parts of Berks and Chester counties. In 2016, Smucker defeated Democrat Christine Hartman by 10 points.  King will be running John George, Hartman, and Richard Griffiths Smith Jr.
PoliticsPA reached out Congressman Smucker's campaign for comment on this story.