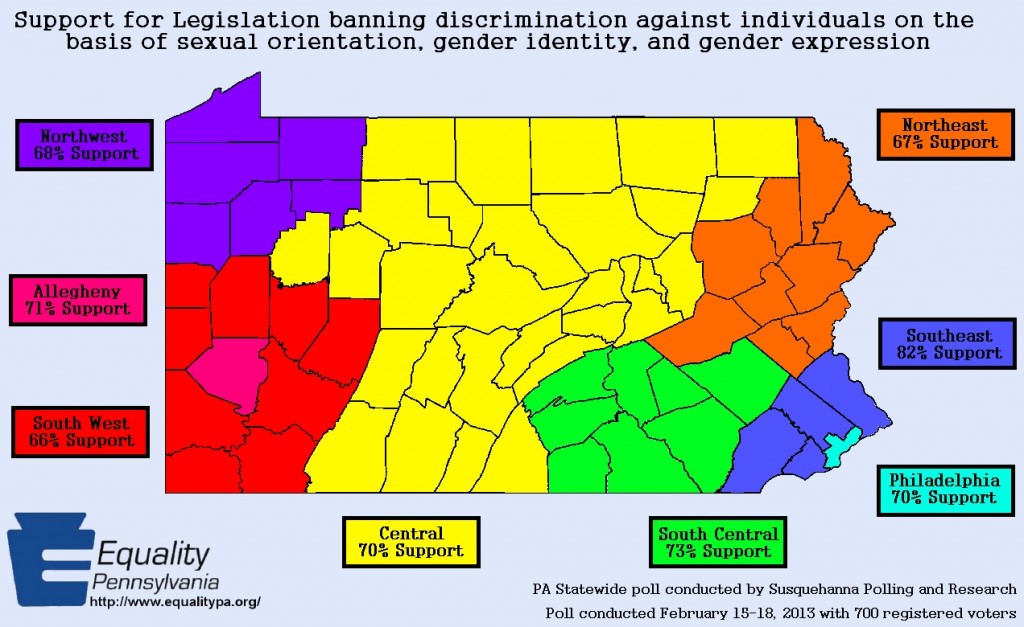 Lawmakers on both sides of the gay rights debate introduced legislation Tuesday. One group sought to officially prohibit discrimination based on sexual orientation, while another sought to define marriage in Pa. as between one man and one woman.
Non-Discrimination
In Pa., gay rights activists are far less concerned with marriage than their national counterparts. Instead, their top priority is non-discrimination.
A bipartisan group of 77 Representatives and 25 Senators back a bill that would add sexual orientation and gender identity to existing non-discrimination rules in matters of hiring as well as eligibility for housing and other public services.
Republican support for the bills include seven members of the House and three in the Senate.
Brian Sims (D-Phila), the first openly gay candidate to be elected to the PA legislature, was among the group legislators who voiced their support today for the measures and the larger issue of LGBT equality.
"As a gay man, I know firsthand how important these protections are and how fundamental they are to the safety and security that so many Pennsylvanians take for granted," Sims said at a press conference. "Moreover, as a legislator, I see every day how the Commonwealth is failing in its promise to treat all people with dignity, respect and with equality under the law."
Senate Majority Whip Pat Browne (R-Lehigh), the lead GOP sponsor of the Senate bill, was also present to comment at the event.
"I am pleased that this legislation is being introduced today in both the Senate and House of Representatives in a bipartisan manner," Browne said. "It's time the commonwealth joined at least 20 other states and many major employers and municipalities in Pennsylvania and make it illegal to discriminate solely based on a person's sexual orientation or gender identity or expression." Browne concluded by saying, "The Declaration of Independence declares that all men are created equal. We should not allow places of business or employers to say otherwise."
This year is unique in Pa. history because the legislature includes not one but two openly gay members: Sims, a Democrat, and state Rep. Mike Fleck (R-Huntingdon), a Republican. Both co-sponsored the measure. The personal connections those two have with colleagues could accelerate a national trend. Across the country, gay rights issues have shed their partisan overtones in the wake of the 2012 election.
Poll Results
Advocates, led by the statewide group Equality PA, have commissioned several polls in recent years on a variety of gay rights issues. Their latest one was conducted in February by GOP pollster Susquehanna Polling and Research.
SP&R surveyed 700 Pa. registered voters from Feb. 15 to 18 via live calls to landlines and cell phones.
72% of respondents said they support a non-discrimination bill, carrying a majority in every demographic category, and 21% said they opposed it. A regional breakdown of support is pictured above.
As with any poll commissioned by an advocacy group, the results should be taken with a grain of salt. For a low-profile issues such as this, many voters are unlikely to have heard of the issue prior to receiving this poll call. Thus, the phrasing of the question is key. Additionally, the results are nearly 3 months old (although they are similar to past polls commissioned by this group).
The poll question was phrased:
"Do you support or oppose legislation that bans discrimination against individuals on the basis of their sexual orientation or gender identity or expression on matters dealing with the workplace, public housing and public accommodations including hotels and public bathrooms?"
Marriage amendment
Pa. conservatives lead by state Rep. Daryl Metcalfe (R-Butler) aren't interested in the national trend. 27 state Reps. signed on to co-sponsor a bill that would amend the Pa. constitution to say:
"Marriage is the legal union of only one man and one woman as husband and wife and no other legal union that is treated as marriage or the substantial equivalent thereof shall be valid or recognized."
"The definition of marriage as 'the union of one man and one woman,' defended and upheld by this legislation, is the traditional definition of marriage that has been recognized and accepted throughout history and the world for centuries," said Metcalfe Tuesday. "Neither homosexual special interests gathered under the immoral umbrella of the ACLU, nor the Obama administration's Department of Justice or any activist court should decide this critical issue for our Commonwealth."
An amendment to the Pa. constitution must pass both houses of the legislature during two consecutive terms, then pass a statewide referendum.
State Rep. Dan Frankel (D-Allegheny), co-chairman of the legislature's LGBT Equality Caucus said that the number of initial co-sponsors of the marriage amendment bill was the lowest number ever for that measure.