A newly formed liberal group is hitting Gov. Tom Corbett on familiar lines, accusing him of cutting education spending while giving tax breaks to corporations.
"Governor Corbett had a choice. He chose to cut a billion dollars from our schools, increasing classroom sizes and risking our kids' futures. All to give tax breaks to his corporate friends," says the narrator.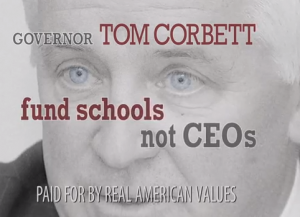 It's a common line of attack by Democrats who criticize the Governor for not replacing $1B in education funding that came from expired federal stimulus funds. Corbett and Republicans note that state funding for education and teachers' pensions has increased during his tenure.
"The ads are entirely false," said spokeswoman Kelli Roberts. "Governor Corbett did not cut education funding in fact he continues to spend more state dollars on basic education than any Governor in history. This year the Governor put an additional $90 million toward education and has proposed an additional $1 billion go toward education with the sale of the state liquor system."
The group is Real American Values, a 501c4 that formed on April 1. Its donors and spending aren't subject to campaign disclosure rules, but a Department of State document shows it was incorporated by Bob Wolper of Strategic Communications Consultants.
The group is a, "non profit meant to educate the public on Tom Corbett's record of putting corporations ahead of Pennsylvania children," Wolper told PoliticsPA.
The ad is being aired in the Harrisburg television market this week to the tune of $32,000, according to a Republican media watcher.
Wolper declined to specify the size or duration of the ad buy as well the media markets where it will air beyond calling it "substantial." He also declined to name the group's donors.
Wolper is a public relations veteran with deep ties to the UFCW local 1776 labor union, which presently is heavily engaged in opposition to Corbett's effort to privatize the state-owned liquor stores. Last year, the UFCW disbursed over $182,000 to Wolper's firm for communications work.
He said the ad has nothing to do with privatization.
"I have done consulting for a number of unions," and other organizations, Wolper said.