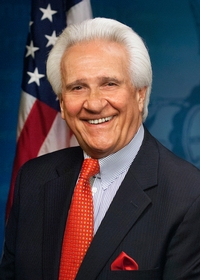 State Rep. Florindo "Flo" Fabrizio died this morning at the age of 73 after a more than year long battle with pancreatic cancer said state Rep. Pat Harkins (D-Erie) to Erie Times-News.
Fabrizio represented the 2nd House District in Erie and served in the Pennsylvania House of Representatives for 16 years. He was first elected to the House in 2002 and had served as the Democratic Chairman of the Health Committee since 2013. Earlier this year, Fabrizio announced he was not seeking re-election. For the 20 years previous to representing the 2nd district, he held the role of Erie County Clerk.
State House Democratic Leader, Frank Dermody, released the following comments on the passing of his colleague.
"The loss of a good friend like Flo is terrible news to absorb. He was truly one of the most enjoyable people I've known. He spoke with intelligence and authority, dressed like a gentleman, and was always warm and friendly to other lawmakers, staff and Capitol visitors.
"Flo's personal touch endeared him to people of all backgrounds and political leanings. He was a class act all around.
"Flo was a proud son of Erie who shared his love of his hometown with all of us, often meeting House colleagues when we came to Erie and making sure that we enjoyed the very best the city has to offer," Dermody said.
"I want to extend my deepest sympathy to Victoria, Flo's wife of 30 years, his daughter Jill and stepsons Anthony and Matthew, his grandchildren, and to his staff people in Erie and Harrisburg. We are sharing the pain of their great loss."
Gov. Tom Wolf released the following statement on the passing of Fabrizio.
"Representative Fabrizio's life was one of passion and he spent his career fighting for the people he represented in Erie. Flo was a loyal and loving husband, father, colleague, friend and representative. He was a personal friend to me and I will never forget his zeal for life, even in his most difficult days. His legacy in Erie and across Pennsylvania will live on for years to come and I encourage all Pennsylvanians to keep him, his family and all those mourning in their thoughts today."
Pennsylvania Speaker of the House, Rep. Mike Turzai released the following statement on Fabrizio, who he viewed as a "strong voice" for the people of Erie.
"Rep. Fabrizio was a class act throughout his entire life. He was a strong voice for the people of Erie during his 16 years in the House, and his leadership and counsel will be missed by all.
"As Democratic chairman of the House Health Committee, Rep. Fabrizio worked in a bipartisan fashion and always sought to find consensus where possible. He was diligent, thoughtful and always respectful of the diverse opinions and backgrounds of his colleagues.
"Flo was also more than a colleague to many of us. We were honored to consider him a friend.  We will miss his broad smile, his engaging personality and his impeccable sense for fashion.
We extend our deepest sympathy to his wife, Victoria; his daughter, Jill; and his stepsons, Anthony and Matthew."
Voters in the 2nd District will elect a new representative for the 2019-2020 session at the November general election. Democrat Erie City Councilman Bob Merski, endorsed by Fabrizio, will run against Republican Tim Kuzma for the seat.