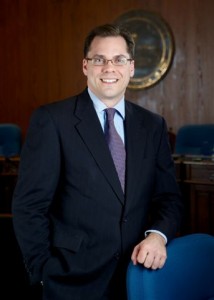 With the ballot now set for the lieutenant governor's race, Harrisburg City Councilman Brad Koplinski tacked on a few more endorsements just for good measure.
Koplinski received the support of the United Mine Workers of America Local 1520 as well as the Democratic Committees of Chester, Monroe, Perry and Warren Counties.
In regards to the endorsement, the Local 1520 President Bill Richardson said, "Mr, Koplinski understands the needs of working men and women. He has shown this by his own membership in unions and by his work in Harrisburg. Brad will stand up for Labor as Lt. Governor."
As Richardson alludes to, Koplinski himself was a union member himself twice. As a teenager, he was a member of the United Food and Commercial Workers Union, and he also joined the National Treasury Employees Union during his stint as an attorney with the Office of Chief Counsel at the IRS.
"I appreciate the support of UMWA Local 1520," Koplinski said. "They have fought for years for good wages and good conditions for their workers.  I am proud that they will be fighting for me."
Koplinski adds the endorsement of the Local 1520 to an already respectable list of union endorsements. The International Brotherhood of Electrical Workers (IBEW) Local 143, Laborers International Union Local 1180 and the American Federation of Government Employees Local 3145 all threw their support behind Koplinski earlier last month. Koplinski also recently received the support of Young Democrats.
The Harrisburg City Councilman faces former Congressman Mark Critz, Bradford County Commissioner Mark Smith, State Senator Mike Stack, and State Rep. Brandon Neuman in the Democratic primary in May.