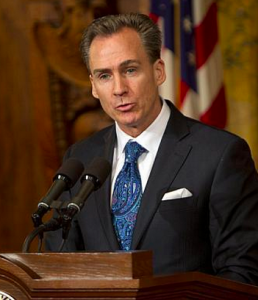 State Senator Mike Stack (D-Philadelphia) received a crop of endorsements from Pa. LGBT organizations, including the Steel City Stonewall Democrats, the Gertrude Stein Political Club and Liberty City Democratic Club.
The Steel City Stonewall Democrats is an advocacy group that supports "equal rights for all people, regardless of sexual orientation or gender identity or expression" in the city of Pittsburgh. They are affiliated with the LGBT section of the Democratic National Committee and are the largest LGBT advocacy group in Western Pennsylvania. The Stonewall Democrats also endorsed State Treasurer Rob  McCord for Governor.
The Gertrude Stein Political Club is also located in Pittsburgh and is a multi-partisan organization that supports political candidates who actively defend and advocate for the rights of the LGBT community. In a press release covered by Pittsburgh's City Paper, the organization explained why they supported the Philadelphia State Senator.
"[Mike Stack] has a strong organization, strong ties to our community, and has been instrumental to moving bits of progressive legislation through a government largely controlled by people who demonize our community."
Stack is the co-sponsor of Senate Bill 300, a bill that would make it illegal in Pennsylvania for employers to discriminate against both employees and applicants based on sexual orientation. The bill has been stalled in both houses.
And as reported earlier this week by PoliticsPA, Stack also received the support of Liberty City Democratic Club of Philadelphia, an organization that works to further change to better the LGBT community.
Neither the GSPC and the LCDC chose to endorse a candidate for governor, which means that the support of these organizations is a big and defining win for Stack that affirms his credentials on socially progressive issues.
Also running for lieutenant governor are candidates former Congressman Mark Critz, Bradford County Commissioner Mark Smith, Harrisburg City Councilman Brad Koplinski and State Rep. Brendan Neuman.