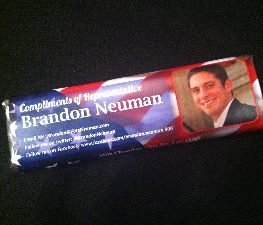 Considering State Rep. Brandon Neuman hasn't been in the Lieutenant Governor's race for long, his 2013 financial report is a bit of a pleasant surprise. While Neuman didn't set the world on fire, just being able to stand on his own two feet at this late stage of the game is a positive sign for his campaign.
According to his report, Neuman raised $90,530 last year and rolled over another $10,352 from his previous campaigns. He currently has $34,385 cash on hand.
Given the fact that Neuman only officially jumped into the race last week, it's possible many of his 2013 donors gave to him without knowing which office he would be seeking. Regardless, Neuman was able to pull in money from Western PA and from some of the lawyers, unions, and PACs in Harrisburg.
The biggest issue for the candidate, though, was his burn rate. He spent $66,496 last year.
For example, thousands were spent on sponsoring local events and organizations as well as hosting fundraisers. Additionally, Neuman had to give hundreds of dollars to county parties in order to compete for local endorsements.
The biggest expenditure was $7,000 to the fundraising firm SPB Strategies.
Neuman faces a field of five other established candidates in this race: former Rep. Mark Critz, State Senator Mike Stack, Harrisburg City Councilman Brad Koplinski, Bradford County Commissioner Mark Smith and Harrisburg advisor Dr. Brenda Alton.